Haiti election: Pressure to include Michel Martelly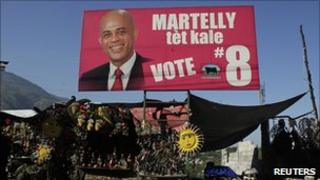 The US and the UN have backed a call for Haiti to drop a government-backed candidate from the second round of the presidential election.
They supported a recommendation by the Organization of American States for the candidate, Jude Celestin, to be replaced by singer Michel Martelly.
Observers said the November election was marred by widespread fraud.
There is concern that the return to Haiti of ex-leader Jean-Claude Duvalier could add to the political uncertainty.
Mr Duvalier, known as "Baby Doc", arrived on Sunday - the day Haiti was supposed to hold a second round of elections to choose a successor to outgoing President Rene Preval.
Mr Martelly's supporters staged violent demonstrations when it was announced that Mr Celestin, a protege of incumbent President Rene Preval, had been placed second behind former first lady Mirlande Manigat.
The run-off has been postponed amid growing international pressure for Mr Celestin to be dropped from the ballot paper.
"Should the CEP (Haiti's Provisional Electoral Council) decide otherwise, Haiti may well be faced with a constitutional crisis, with the possibility of considerable unrest and insecurity," said UN peacekeeping chief Alain Le Roy.
Mr Le Roy said he thought Haiti's electoral commission would announce definitive results by the end of the month and try to stage the run-off vote in mid-February.
The US ambassador to the UN, Susan Rice, told a UN Security Council briefing: "Sustained support from the international community, including the United States, requires a credible process that represents the will of the Haitian people, as expressed by their votes."
The UN has some 12,000 peacekeepers in Haiti, which suffered a devastating earthquake on 12 January 2010.
'Notorious record'
Ms Rice also voiced concern about Mr Duvalier's return.
"Given the continuing turmoil surrounding the November 2010 election, the United States is concerned about the unpredictable impact that Duvalier's return may have on Haiti's political situation," she said.
State prosecutors have charged Mr Duvalier with corruption and embezzlement. Four Haitians have filed suits against him for alleged cases of torture and other crimes against humanity during his 1971-1986 rule.
"My government is clear about Duvalier's notorious record of human rights abuses and corruption," said Ms Rice.
Mr Duvalier has denied wrongdoing.
AFP news agency cited an unnamed Haitian judge as saying that Mr Duvalier had been barred from leaving the country.
Another former President, Jean-Bertrand Aristide, has said he may also return to Haiti.
Meanwhile, the US has resumed the deportation of Haitian migrants with a criminal record - suspended after the earthquake.
Human rights groups have criticised the end of the moratorium, saying the men faced inhumane jail conditions in Haiti, but US officials said they posed a threat to public safety in America.