Brazilian babies swapped at birth end up living close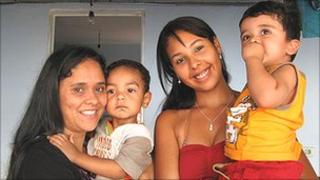 It is every mother's nightmare - you go into hospital to give birth but you go home with the wrong baby.
That is what happened to Brazilians Queila Fagundes and Elaine Oliveira who both had baby boys in the same hospital in Goiania in March 2009.
A year later, the women discovered the sons they had nurtured were not their own and were ordered to swap them back.
But their story, told on TV, prompted two Brazilian musicians to buy the families houses close to one another.
For more than a year, the mothers loved what they thought were their biological sons.
"We carried on with our lives but a year later the hospital called to say I needed to come in to do some tests," Elaine told BBC World Service's Outlook.
"When I got there they told me they were investigating an accidental swap of two babies in the hospital and that my baby could be one of them.
"I did the DNA test and was confident that it wasn't my child that had been swapped," she said.
"But when I got the result and saw that Davidson Samuel wasn't my biological child, for me the world ended. I just couldn't believe it."
'Utter shock'
Queila was in a similar state of shock when she learned that her own son, who she named Lucas Daniel, wasn't her own.
"They re-did the test four times and each time it came back with the same result, negative," she revealed. "When I saw the results I was in shock, utter shock."
The mothers were ordered to swap the babies back by a court in May 2010.
But after nurturing what they thought were their own children for such a lengthy period, both struggled to deal with the handover.
"It was the longest night of my life," said Queila. "Everywhere I looked everything made me cry.
"I looked at Lucas Daniel's photo, his first year album, his pram, a little sock that had been left in the corner, his bottle, his dummy - I thought, 'God please bring me back my little boy'.
"After everything I went through, I lost the thing I loved the most. I gained a son but at the same time I lost one."
Both mothers appeared on television with their sons shortly after the swap to tell their story.
Brazilian country music duo Joao Carreiro and Capataz were so touched that they offered to buy them houses close to each other in the city of Nilopolis in Rio de Janeiro state.
"It was an extraordinary thing because I didn't have a car and Queila lived far away," Elaine said.
"It was going to be so hard for us to be separated from these boys because it was like we'd both lost a son.
"But then Joao Carreiro and Capataz were so generous, they gave us a house next to each other in the same city so we could all live close together. It was just amazing."
Both mothers now live within three streets of each other and spend most days as one big family.
"Now I know it was the right thing for the children to be brought up by their biological parents," Elaine said.
"But at that time I had a strong tie to the baby I had brought up. That kind of love will never end."
Queila added: "I had always wanted twins and it was the same for Elaine.
"It turned out that God gave us twins. They just had two different mothers."