Mexico holds suspect in Salvador Cabanas shooting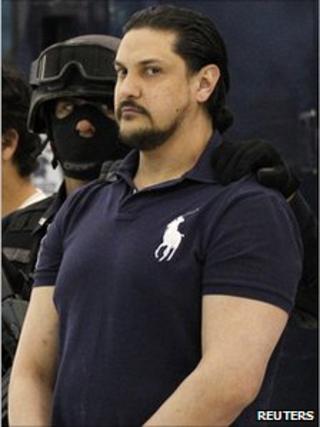 Mexican police have arrested a suspected drug dealer over the shooting of a Paraguayan footballer last year.
Jose Balderas Garza had been in hiding since the attack last January on Salvador Cabanas, who played for Paraguay and Mexico's Club America.
Known as JJ, he was arrested in Mexico City with six other people said by police to be in his drugs ring.
Police say Mr Balderas claims one of his associates shot the 29-year-old footballer, who is recovering slowly.
Francisco Barreto Garcia, who oversaw security for Mr Balderas, was arrested in June last year and told investigators that his boss had killed Mr Cabanas after a row about football.
The soccer star was shot in the head in the bathroom of a bar in Mexico City on 25 January 2010 but a bullet remains lodged in his head.
Both Mr Balderas and Mr Barreto Garcia were seen leaving the bathroom shortly afterwards.
Mr Balderas and his six associates were arrested carrying false IDs, along with what appeared to be bags of cocaine, guns and ammunition, according to federal police official Ramon Eduardo Pequeno
Mr Pequeno said Mr Balderas is also suspected of being the financial operator linked with alleged drug lord Edgar Valdez Villareal, who was caught by police last year.