Tourists trapped in Chile due to fuel price strikes
By Gideon Long
BBC News, Santiago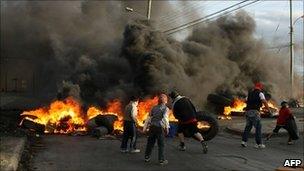 Thousands of foreign tourists are trapped in southern Chile due to strikes and road blockades by locals protesting a rise in fuel prices.
The tourists, some of whom have been stuck for four days, had hoped to leave for neighbouring Argentina, but have reportedly been turned back.
The strike was sparked by a government plan to hike gas prices by nearly 17%.
The move has brought the region to a standstill and led to clashes with police, who responded with tear gas.
On Tuesday, two young women were killed when a truck smashed through a blockade.
About 2,000 tourists are stuck in the cities of Puerto Natales and Punta Arenas, in the deep south of Patagonia.
Most of the tourists, who come from more than 20 countries, had been visiting the majestic Torres del Paine national park, Chile's biggest tourist attraction and a popular destination for hikers.
The demonstrators say they have now relaxed the blockades to allow tourists to leave.
But one American tourist, speaking to the BBC from Puerto Natales, said that when the first group of foreigners had tried to leave for Argentina, they had been turned back.
The Red Cross is assisting tourists, and the Chilean military is on hand to maintain order.
Several foreign governments have advised their citizens not to travel to southern Chile, and some embassies have put pressure on the government in Santiago to resolve the issue.