Brazil floods: 'Never seen anything like it'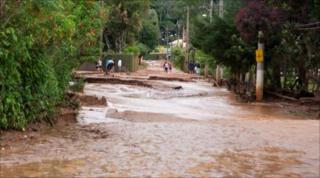 More than 500 people are now known to have died in floods in south-eastern Brazil, the country's worst natural disaster for several decades.
Heavy rain has led to massive mudslides hitting several towns, resulting in thousands being made homeless.
Here, residents from the affected areas describe the aftermath:
Trina Simpson, Nova Friburgo, Rio de Janeiro
At the moment it is raining lightly, which is worrying everyone as yesterday we had 10 hours of rain.
The city centre is devastated.
I tried going there but gave up as there is a lot of mud and water, I have never seen anything like it. People are behaving very well, they have been pulling together and sharing.
There is a lack of water and shops are charging a lot for bottled water - so I guess there has been some panic buying. I wasn't able to get any water and the police kindly gave me some.
Mobile phones are now working although not all of them, and some areas still don't have any electricity.
It's very sad, some people have lost family members or or still haven't heard from them.
The damage has been a real mixture and it hasn't been in the traditional areas at risk.
In the city centre a block of flats went down and a cable car crashed.
Authorities say the death number will be higher.
Bernardo Jaccoud, Nova Friburgo, Rio de Janeiro
My house wasn't affected by the floods, but we don't have any drinking water. Yesterday the electric power was turned on again.
Many hills just fell down. There are many bodies buried under the ground. They say around 2,000 people have died.
Yesterday I joined a group of volunteers to bring food and clothing to homeless people who are currently being housed in schools. They have nothing.
The water has stagnated, it hasn't gone done down yet.
Lucas Ribeiro, Santa Barbara D'Oeste, Sao Paulo
The floods are affecting my city as well. In Santa Barbara D'Oeste, just 100km (62 miles) from Sao Paulo city, more than a hundred people have been left homeless, and it's been reported that five people have died.
The situation is very tough - some parts of the city are under water and can only be reached by boat. The worst thing about this tragedy is that it happens every year - it isn't new here in Brazil.
Last year my city flooded as well, and although there were no deaths, people drowned in other nearby cities. I think communities have to take responsibility for their safety as well as the authorities.
People continue to do things which make the impact of the floods worse.
In some cities people build their houses very close to the mountains, despite the fact that flooding coming from the mountain will destroy their homes.
In my city there is a river and it is very common for people to throw rubbish into it - things like mobile phone batteries and old sofas.
Then when the river floods this rubbish flows into people's homes, increasing the damage and pollution. Politicians try to deal with the flooding when it happens - but we must all start to do more to prevent it.