Argentine president Fernandez's travel cash stolen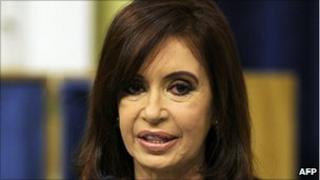 Robbers in Argentina have stolen $90,000 (£57,000) worth of cash meant for use by President Cristina Fernandez on an official Middle East trip.
An official had picked up the money for the trip at the treasury and put it in his backpack.
The man told police the robbery happened after his driver dropped him off half a block from his house.
On his walk home, he was ambushed by three men on motorbikes, who forced him to hand over the backpack at gunpoint.
He is reported to have been carrying 17,000 euros and $68,000.
The Argentine newspaper Clarin said the money was to be used for presidential plane expenses during Ms Fernandez's trip to Kuwait, Qatar and Turkey.