Argentina lightning kills four in Buenos Aires area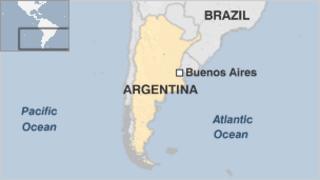 Four people have died after being struck by lightning in the Buenos Aires area, Argentine officials say.
Among the dead was Cesar Nardi, 61, who worked as a massage therapist for Racing football club.
The other victims included two children, aged eight and 11, who were playing near a swimming pool, while several others youngsters were hurt.
A 25-year-old Bolivian man also died after being struck while working outdoors, hospital officials said.
Mr Nardi was struck during a practice session at Racing's training ground in Lujan, on the outskirts of the Argentine capital.
The other three victims died as electric storms affected Florencio Varela in the greater Buenos Aires area.