Prison fight in Mexican state of Durango leaves 11 dead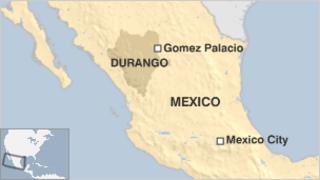 A fight in a prison in the Mexican state of Durango has left 11 inmates dead, officials say.
The jail in the city of Gomez Palacio has seen several deadly clashes, including one last January in which more than 20 prisoners were killed.
Last year, prosecutors accused some of the guards of freeing inmates overnight to carry out contract killings before returning them to their cells.
It was not immediately clear why the latest fighting broke out.
Mexican media also reported that two lawyers working at the prison had been found shot dead.
The bodies of the two women were found dumped beside a bridge in Gomez Palacio, officials said.
The latest clashes broke out on Tuesday afternoon.
"There was a riot inside the prison and 11 men were killed," Alejandro Moreno, deputy prosecutor for Durango state said.
Last July, guards at the prison were accused of equipping inmates with weapons and vehicles to commit some 35 murders in neighbouring Coahuila state.
Mexico's prison system is struggling to cope with an influx of violent offenders arrested in the government's campaign against the drug cartels.
Many prisons are overcrowded and allegations of corruption are widespread.
There have also been a series of mass escapes. Last month, more than 140 prisoners escaped a jail in the northern border city of Nuevo Laredo.