OAS to give Haiti presidential election verdict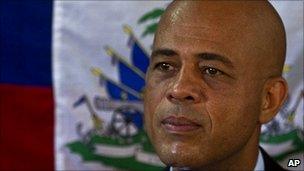 The Organisation of American States (OAS) is set to recommend that the governing party candidate in Haiti's presidential election should be dropped from the run-off vote, reports say.
Provisional results said Jude Celestin came second in the first round to the former First Lady, Mirlande Manigat.
But OAS monitors found that the opposition candidate Michel Martelly won more votes.
The OAS was asked to review the result after violent protests.
Mr Martelly's supporters rioted in several cities and clashed with UN peacekeepers after he said he had been wrongly denied victory. At least five people were killed.
The 28 November vote was widely denounced, with reports of ballot box stuffing and violence and intimidation at polling stations.
With the agreement of the Haitian government, the OAS sent a mission of 10 experts to evaluate the result and review the way the vote was counted.
Diplomatic sources and the Associated Press news agency, which has seen the report, say it found strong evidence of fraud, but did not consider it bad enough for the election to be annulled or fully recounted.
"After a thorough statistical analysis, the expert mission has determined that it cannot support the preliminary results of the presidential elections released on 7 December 2010," the Associated Press quotes the report as saying.
After discounting thousands of fraudulent or improper ballots for all candidates, it found that Mr Martelly won slightly more votes than Mr Celestin, and should go through to the run-off in second place.
The report is due to be presented to the outgoing Haitian president Rene Preval, who has been backing Mr Celestin.
At a news conference late on Monday, Mr Preval said he had not yet received the report.
"I have nothing to say about the (OAS) recommendations. I have not read them. I don't have them in my hands," he said.
President Preval will have to decide whether to accept the recommendation. If he does, correspondents say there is a danger that Mr Celestin's supporters will take to the streets in protest.
The decisive second round was due to take place on 16 January, but is now not expected to go ahead until next month.
Mr Preval's mandate officially ends on 7 February but he has parliamentary authorisation to stay in office until May.
Whoever finally wins the presidency will face the task of rebuilding Haiti after the devastating earthquake a year ago, which killed more than 200,000 people and left the capital, Port-au-Prince, in ruins.
More than a million people left homeless by the quake are still living in tents in poor conditions, and the country has also been ravaged by a cholera epidemic that has killed more than 3,700 people.
Haiti is the poorest country in the western hemisphere and has suffered years of political instability.
Related Internet Links
The BBC is not responsible for the content of external sites.