Several die in Guadeloupe floods after torrential rains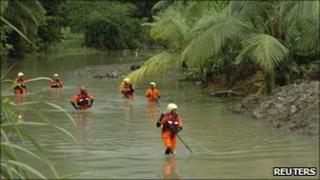 At least four people have died after torrential rains on the French Caribbean island of Guadeloupe.
Authorities say that those who died were killed in Les Abymes, north of the capital, Pointe-a-Pitre.
Some 20cm (7.9in) of rain have fallen across parts of the island over the last two days.
A French government spokesman said that President Nicolas Sarkozy had expressed "solidarity" with the victims' families.
AFP reports that the four who died were killed when the off-road vehicle they were travelling in was swept away as the driver attempted to cross a flooded bridge.
A fifth person also travelling in the vehicle is yet to be accounted for.
France's minister for overseas territories was reported to be travelling to the territory on Wednesday.
Mr Sarkozy is also expected to visit the island this weekend for a previously organised trip.