Argentina thieves tunnel into Buenos Aires bank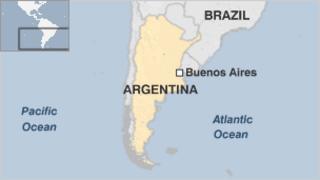 Bank robbers in Argentina have tunnelled into a vault and emptied more than 100 safety deposit boxes, police say.
The robbery in Buenos Aires was only detected when bank staff returned to work after the new year weekend.
The thieves are thought to have spent six months digging a 30m (100ft) tunnel complete with lights and ventilation.
Alarms went off several times overnight but police saw the doors of the bank were shut and took no further action.
Bank executives did not say how much was stolen as the contents of the deposit boxes are confidential.
Hundreds of angry clients gathered outside the state-owned Banco Provincia branch in the Buenos Aires district of Belgrano to demand their savings and find out if their boxes had been broken into.
The thieves rented a neighbouring building in July last year and dug a tunnel that came out exactly where the safety deposit boxes were located.
"It was a really impressive job," said prosecutor Martin Nikilson, adding that investigators had not ruled out the possibility that the thieves had an accomplice inside the bank.
Many Argentines began putting their savings in safety deposit boxes after the financial crisis in 2001, when people with bank deposit accounts lost some of their money.