Italy fugitive Battisti seeks release from Brazil jail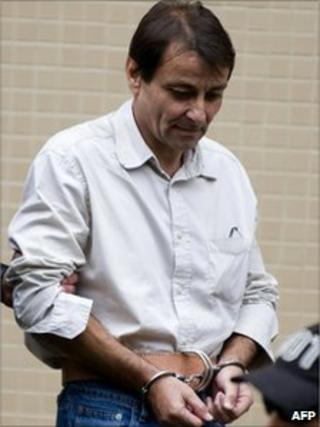 Lawyers for the Italian former left-wing rebel Cesare Battisti have asked for his release from prison in Brazil.
The request comes days after former Brazilian President Lula da Silva - on his last day in office - decided not to extradite Mr Battisti to Italy.
The move provoked outrage in Italy, where Mr Battisti has been convicted of murdering four people in the 1970s.
He has always maintained his innocence, saying he is the victim of political persecution in Italy.
Mr Battisti's defence lawyers said they had asked for him to be freed "as soon as possible" following the decision not to extradite him to Italy.
He has been on the run since escaping from an Italian jail in 1981 while awaiting trial, and was convicted of murder in absentia in 1990.
He spent many years in France - where he started a career as a novelist - before moving to Mexico and finally Brazil, where he was arrested in 2007.
Political asylum
The Italian government requested his extradition, saying the former member of the Armed Proletarians for Communism (PAC) was a terrorist.
Last year, the Brazilian government accepted Mr Battisti's request for political asylum, but the supreme court ruled the designation was illegal as he was convicted of "common crimes" rather than political acts.
The judges said Brazil's extradition treaty with Italy should apply, but nevertheless left the final decision to the president.
On Friday - a day before handing over the presidency to Dilma Rousseff - Lula decided to turn down Italy's request.
Italy reacted with fury, withdrawing its ambassador from Brasilia and accusing Lula of showing a lack of courage.
"I express deep bitterness and regret at the decision by President Lula to refuse the extradition of Cesare Battisti, a multiple murderer, despite insistent requests and urging at all levels from Italy," Italian Prime Minister Silvio Berlusconi said.
"This is a choice contrary to the most elementary sense of justice," he added. "I consider this situation is anything but closed - Italy will not give up and will make sure of its rights."
Any decision to release Mr Battisti will have to be taken by Brazil's supreme court.