Brazil army to take up 'peacekeeping' in Rio slums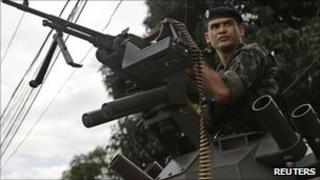 The army in Brazil is to take on peacekeeping duties in the poor areas of Rio de Janeiro, which saw a week-long stand-off between security forces and drug dealers last month.
Soldiers will patrol the Alemao and Penha districts to ensure hundreds of drug traffickers who had made the areas their stronghold would not return.
Security forces arrested more than 100 people during their sweep of the area.
It will be the army's first peacekeeping mission within Brazil.
Defence Minister Nelson Jobim said the army would be able to draw on its years of experience heading the United Nation's peacekeeping mission in Haiti.
Brazilian President Luiz Inacio Lula da Silva has approved the army's continued presence, which was requested by the governor of Rio state, Sergio Cabral.
He had earlier praised the joint police and military operation and promised it would only be the start of a campaign to rid Rio of drugs gangs.
The Alemao and Penha districts have been a stronghold of drugs traffickers and virtual no-go area for police for decades.