Colombia reduces jail term for paramilitary in amnesty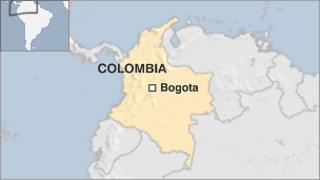 A court in Colombia has sentenced a former paramilitary commander, who has admitted ordering the killing of more than 4,000 people, to eight years in prison.
Jorge Ivan Laverde had originally been sentenced to 40 years but his sentence was reduced as part of an amnesty programme.
He was found guilty of participating in at least 28 massacres while leading a commando of the right-wing United Self Defence Forces of Colombia.
He handed himself in six years ago.
When he turned himself in, he also handed over more than 1,000 weapons, 200 two-way radios, 11 vehicles, eight canoes and 45 mules.
During testimony he delivered to a judge from the amnesty commission, Laverde said he had helped build ovens in which his paramilitary group disposed of the bodies of 98 people they killed.
Some 30,000 members of the United Self Defence Forces have demobilised over the past 10 years, but the security forces say around 9,000 have since joined new armed groups and engage mainly in drug trafficking.