Wikileaks cables: US Mexico drugs war fears revealed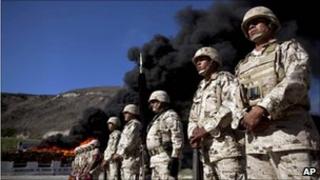 The US is concerned that the Mexican army is failing in its fight against drug cartels, according to diplomatic cables released by Wikileaks.
A cable sent by the US embassy in Mexico City in January 2010 described the army as "slow and risk averse."
It said troops were not trained to patrol the streets or gather evidence to convict those detained.
However, the cables praise the Mexican government for its "unprecedented commitment" to take on the drugs gangs.
But the fight is being hampered by widespread "official corruption" and a lack of co-ordination.
According to the cable dated 29 January 2010, the deployment of troops in Ciudad Juarez - a border city at the heart of the drugs war - had failed to reduce violence.
Troops were not trained for law enforcement operations, and only 2% of of people arrested in the city were charged with any crime, it says.
The Mexican navy is seen as more effective, particularly in the operation in which the cartel leader Arturo Beltran Leyva was killed - an operation that, the cable says, was based on US intelligence.
Losing control
But security institutions were often "locked in a zero-sum competition in which one agency's success is viewed as another's failure, information is closely guarded and joint operations are all but unheard of."
Another embassy cable sent in October 2009 quotes a senior Mexican official as saying his government was worried it was losing control of some regions to the drug gangs.
"We have 18 months," Geronimo Gutierrez, at the time Mexico's under-secretary of the interior, is quoted as saying.
"And if we do not produce a tangible success that is recognisable to the Mexican people, it will be difficult to sustain this confrontation into the next administration."
"It is damaging Mexico's reputation, hurting foreign investment, and leading to a sense of government impotence."
The BBC's Julian Miglierini in Mexico City says Washington's financial and political support for President Felipe Calderon's strategy has been crucial.
The cables highlight Mexico's calls for more help to fight what many in Mexico believe is a problem that originated in the high demand for drugs in US territory, he adds.
While the publication of the cables is unlikely to strain relations between the countries, it has opened the door into how Washington is thinking about the burdens of its southern neighbour, our correspondent adds.
More than 30,000 Mexicans have been killed in drug-related violence since President Calderon began deploying troops to fight the cartels four years ago.
The US embassy cables praise President Calderon's government for its willingness to build "strong civilian law enforcement institutions that are necessary for sustained success against organised crime in Mexico."
They also highlight how the kind of help Mexico requests from the US has shifted from military hardware to intelligence-gathering technology and training.
President Caderon's office said it had seen the leaked cables but had no immediate comment to make, the Associated Press reported.