Colombia vows to eradicate drugs money from football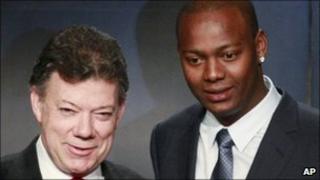 Colombian President Juan Manuel Santos has promised to stop the infiltration of drug money into the country's professional football clubs.
Mr Santos said "a few rotten apples" were threatening the future of Colombian football.
One top club - Independiente Santa Fe of Bogota - is currently under investigation for alleged money laundering for drugs cartels.
Mr Santos was speaking at an awards ceremony packed with sports stars.
"We are going to smash any relation between criminals and football," he said.
Shady past
"Either we change football or it will be over for us, and I am not going to permit the demise of Colombian football."
Mr Santos - who is himself a fan of Independiente Santa Fe - said football had to return to the age "when there was a healthy environment and the support was marvellous."
The Colombian congress is debating legislation intended to make the financing of football clubs more transparent.
Independiente Santa Fe is alleged to have laundered millions of dollars in drugs money for the fugitive drugs trafficker Daniel "El Loco" Barrera.
Prosecutors allege that $29m and 17m Euros (£33m) seized in October were destined for the club.
The club's directors have promised full co-operation with the investigation.
Colombian football has a long history of links with drug traffickers.
In the 1980s notorious cocaine barons such as Pablo Escobar and the Rodriguez Orejuela brothers owned prominent football clubs.