Wikileaks reveal US concerns on Cuba-Venezuela ties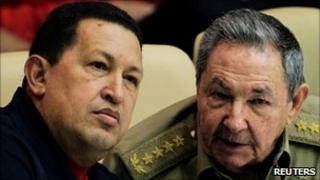 Cuban intelligence agents have deep involvement in Venezuela, according to a 2006 US diplomatic cable released by Wikileaks.
Then-US Ambassador William Brownfield wrote that Cuban spies had "direct access" to President Hugo Chavez.
Another cable sent in 2010 said Cuban agents controlled spying operations against the US embassy in Caracas.
The left-wing governments of Cuba and Venezuela are close allies and outspoken opponents of the US.
The secret diplomatic cables released by Wikileaks were published by the Spanish newspaper, El Pais.
Similar allegations of Cuban intelligence influence in Venezuela have been made by Venezuelan opposition groups, but US officials have not publicly expressed such concerns.
The leaked cable from Ambassador Brownfield says the ties between Cuban and Venezuelan intelligence are so close that the two countries agencies "appear to be competing with each other for the Venezuelan government's attention".
Indoctrination
The ambassador wrote that Cuban spies were so close to President Chavez that they provided him with intelligence unvetted by Venezuelan officers.
"Cuban agents train Venezuelans on both Cuba and Venezuela, providing both political indoctrination and operational instruction".
The ambassador concludes that the Cuban involvement could impact US interests directly.
"Venezuelan intelligence services are among the most hostile towards the United States in the hemisphere, but they lack the expertise that Cuban services can provide".
The level of Cuban involvement in other agencies of the Venezuelan government was harder to confirm, he wrote.
The embassy "had received no credible reports of extensive Cuban involvement in the Venezuelan military", but there were reports that Cubans were training Mr Chavez's bodyguard.
But Cubans were likely to be involved "to a great extent" in agricultural policy, as well as in an identity card scheme.
The ambassador added that it was impossible to tell how many Cubans were working in Venezuela.
Cuba's biggest and most public involvement in Venezuela is in the provision of tens of thousands of doctors and nurses who provide basic health services in poor areas.
In return, Venezuela provides Cuba with subsidized oil.