Haiti election valid despite 'irregularities', says OAS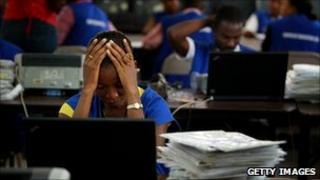 Haiti's general election on Sunday was valid despite "serious irregularities", international observers have said.
The joint mission from the Organisation of American States and the Caribbean regional grouping, Caricom, said delays at some polling stations were not reason enough to cancel the election.
Most opposition presidential candidates had called for the vote to be annulled because of alleged vote-rigging.
But two of the leading candidates later withdrew their objections.
The election is seen as crucial to the future of Haiti, which is battling a cholera epidemic and trying to rebuild after January's devastating earthquake.
Polling day on Sunday was marred by disorganisation and some violence, as well as allegations of fraud in favour of the governing party candidate, Jude Celestin.
But the OAS and Caricom election monitors said there was not enough reason to call it off.
"The joint mission does not believe that these irregularities, serious though they are, should invalidate the elections," said the head of the observers, Colin Granderson.
The decision by some opposition candidates to denounce it as fraudulent was "hasty and regrettable", he said.
The UN Secretary General Ban Ki-moon has appealed for calm, saying that any deterioration in the security situation would hamper efforts to contain the cholera epidemic.
'Massive fraud'
Haiti's Provisional Electoral Council has denied allegations that it stuffed ballot boxes to ensure victory for Mr Celestin, the preferred successor of outgoing President Rene Preval.
On Sunday 12 of the 18 opposition candidates called for the vote to be cancelled, with some joining street protests against "massive fraud".
But on Monday the two leading opposition contenders, Mirlande Manigat and pop star-turned-politician Michel Martelly, reversed their position, saying the result of the election should be respected.
Mr Martelly, also known as "Sweet Micky", said the opposition protest had stopped a government plan to steal the vote, so counting should now continue.
"I want the electoral council, President Preval and the international community to respect the voice of the population," he said.
One explanation for Mr Martelly's change of position maybe that he thinks he is winning, says the BBC's Mark Doyle in Port-au-Prince.
The election was characterised by mismanagement and incidents of fraud, our correspondent says.
There were multiple reports of would-be voters turning up at polling stations to find they were not registered to vote - and of others having the right papers but no idea where to vote.
Some polling stations opened hours late, there were allegations that some people were voting multiple times, and thugs ransacked some polling stations.
Fanmi Lavalas, the party of deposed President Jean-Bertrand Aristide, was barred from standing, allegedly due to technical errors in its application forms.
The polls were the first since a devastating earthquake struck in January, killing 230,000 people.
Some 11,000 United Nations peacekeepers are helping provide security and logistical support to the process in a country where infrastructure is poor and many earthquake victims still live in tented camps, mostly in the capital, Port-au-Prince.
Occasional violence had broken out during a generally peaceful campaign period.
Results are due to come in from 5 December onwards, with the final tally to be announced on 20 December.
If as expected no candidate receives more than 50% of the vote, the two front runners will proceed to a 16 January run-off.
As well as a new president, Haitians were voting for 11 of the country's 30 senators and all 99 parliamentary deputies.