Brazilian forces seize large drugs haul in Rio favela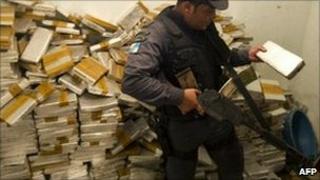 Brazilian police and troops say they have found a large haul of drugs after storming a major drug traffickers' stronghold in Rio de Janeiro.
More than 30 tonnes of marijuana was seized - as well as cocaine - in the Complexo do Alemao favela, police say.
Some 2,600 police and paratroopers carried out a pre-dawn assault on the favela, where hundreds of drug traffickers had been holed up.
Gunfire was heard but police were met with less resistance than expected.
Drug traffickers had been given an ultimatum to surrender by sunset on Saturday or face an assault.
Officers later hoisted the Brazilian and police flags on the hilltop of Alemao.
Luxurious mansion
Officials said they seized the marijuana, which was packaged for delivery, from several houses in Grota - one of the shantytowns that make up the Alemao complex.
Police then formed a long human chain, passing the drug along to awaiting lorries in a main street.
Forces also moved from house to house, searching the area for hundreds of alleged drug traffickers who police feared could be trying to escape through the sewerage system.
Officers said that during their search of the area, they had found the luxurious mansion of one an alleged drug dealer, complete with rooftop swimming pool and its own armoury.
The three-storey house with a sauna and disco was empty when the officers arrived and much of the electronic equipment inside had already been destroyed, police said.
Within hours of Sunday's operation, police said they had taken control of the favela.
"We won. We brought freedom to the residents of Alemao," said the head of Rio's military police, Mario Sergio Duarte.
"Now it is time to be patient. We've taken over the territory but it doesn't mean that we won't have confrontations with the gang members still inside. We have to be careful because they may be trying to set up traps for our men," he said.
Eduardo Paes, the city's major, said the police were "giving the city back to its citizens".
The operation follows a week of clashes between security forces and suspected drug dealers in several slums in the Rio area, with drug gangs fighting back with gunfire and setting vehicles on fire. At least 45 people have been killed.
The suspected traffickers fled to Alemao from the Vila Cruzeiro favela after police took control of it earlier this week.
'Heavy-handed'
Brazilian authorities say it aims to make the city safer ahead of the World Cup in 2014 and Olympic Games in 2016.
But human rights activists have accused Brazil of being too heavy-handed in its approach.
"The police so far this week in operations in other communities have killed over 50 people, including in a tragic accident a 14-year-old girl," said Patrick Wilcken, Amnesty's Brazil researcher.
"And one has to remember that this community has a long history of these very militarised campaigns by the police, and in 2007 the police did a huge operation, stormed the community and shot dead 19 people, and then left," he said.