Two killed as gang members clash at El Salvador prison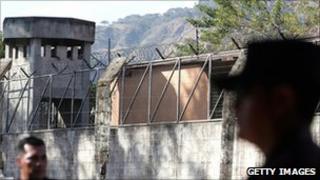 Two inmates have been killed in a fight between rival gang members at a prison in El Salvador.
Twenty-eight people were injured in the violence at the the Apanteos jail in the west of the country.
The head of the prison, Orlando Molina, said inmates tore down barriers and attacked one another with their fists and blunt objects. A police officer was also hurt trying to quell the incident.
El Salvador's prisons are overcrowded, and full of gang members.
Mr Molina said a special police unit had brought the situation under control, and the area around the prison was sealed off.
He said eight of the injured had been taken to hospital.
There has been violence at the Apanteos prison in the past and in 2007 at least 21 people were killed in rioting there.
Correspondents say El Salvador's gangs are powerful organisations with thousands of members, and the country has one of the highest murder rates in the world.