Haiti 'facing cholera treatment shortages'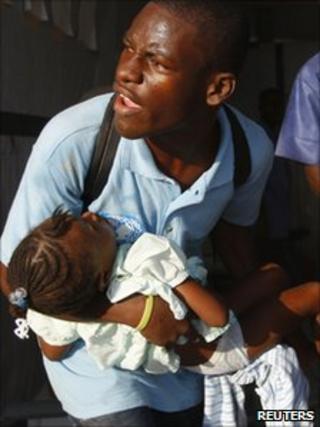 Haiti needs at least 1,000 more nurses and 100 doctors to stem deaths from its cholera epidemic, the UN's top humanitarian official has said.
Health workers in Haiti are also having to cope with shortages of almost all necessary equipment, Valerie Amos said during a visit to the country.
The Haitian government says more than 1,500 people have died.
Meanwhile, the World Bank has announced a $10m (£6.3m) emergency grant for Haiti.
In Haiti, the UN humanitarian chief said doctors and nurses across Haiti were overwhelmed and their efforts were being hampered by dire shortages of necessary supplies, from soap to body bags.
"We clearly need to do more," Baroness Amos told the Reuters news agency during a visit to the Haitian capital Port-au-Prince.
"But it's not just money, it's crucially people, in terms of getting more doctors, nurses, more people who can help with the awareness-raising and getting information out there," she said.
The UN would reach out to countries and aid organisations with the potential to rapidly supply medical staff, she said - for example Cuba, which already has about 400 doctors and other health workers in Haiti.
"We have to control the outbreak and we have to bring down the percentage of people who are dying, and we have to do that as a matter of urgency."
UN officials have said that the international response to an appeal for $164m to help combat the cholera epidemic in Haiti has been insufficient.
Announcing its grant of $10m in emergency aid to Haiti, the World Bank said the cash was to be used partly to support non-profit organisations.
Officials in Haiti say that nearly 28,000 people have been treated in hospital with cholera symptoms and that the epidemic is spreading twice as fast as had been estimated.
A spokesman for the aid organisation Medecins sans Frontieres (MSF) told the BBC the disease was spreading so fast that whenever MSF opened a new treatment centre it immediately filled up with patients.
He said patients in Port-au-Prince were struggling to reach clinics because of traffic gridlock in the city - and the fact that cholera can kill in four hours.
"They're dying in traffic jams," the spokesman told the BBC's Mark Doyle, in the city.
On Wednesday the UN's humanitarian co-ordinator for Haiti, Nigel Fisher, said the scale of the outbreak meant that more than 200,000 cases of infection could be recorded in the first three months, instead of over six months as first estimated.
"This epidemic is moving faster and we are in unknown territory in Haiti just because this is moving so fast. There is no immunity to it", he said.
Mr Fisher added that the Haitian government would have to increase pressure on local authorities to find places for more treatment centres and to dispose of bodies.
Vaccine appeal
In the US on Wednesday, three public health experts urged the government to stockpile vaccines against cholera that could be deployed to parts of the world at high risk of an epidemic.
"The costs to the United States of creating and maintaining a stockpile of several million doses of cholera vaccines would be low," the experts write in the New England Journal of Medicine.
"But the humanitarian benefits of rapid deployment of cholera vaccines to areas at high risk for major cholera outbreaks could be enormous", argue Matthew Waldor of Harvard Medical School, Peter Hotez of George Washington University and John Clemens of the International Vaccine Institute in South Korea.
"If the vaccine were available now, it could still be delivered to as-yet-unaffected parts of Haiti in time to stabilise the country before its national elections."
Campaigning is meanwhile in full swing for the elections, scheduled for Sunday, when Haitians will elect a new president and legislative members.
Some human rights groups and four of the 19 presidential candidates have called for the elections to be postponed because of the cholera epidemic.
And the director of Haiti's electoral registry, Philippe Augustin, told AFP news agency that he feared there would be widespread fraud in the poll.
"We need massive participation and many observers and journalists" to ensure a fair election, he said.
There have been outbreaks of violence between rival political factions in the run-up to the vote. But the UN mission in Haiti, Minustah, says the conditions for a successful vote are good.
Sunday's elections are seen as a crucial step towards giving Haiti a stable government that can lead recovery efforts after January's massive earthquake, which killed about 230,000 people and shattered the capital, Port-au-Prince.
Some 19 candidates are vying to succeed President Rene Preval and it is likely that the election will go to a second round run-off on 16 January.
Most candidates have insisted that the elections, which will also choose 99 deputies and 10 senators, should go ahead as planned.