Venezuela bans unauthorised use of Hugo Chavez's image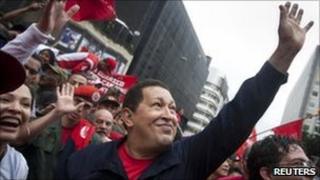 Venezuela's government has banned the use of President Hugo Chavez's image for propaganda purposes without direct and prior permission from the leader.
The use of Mr Chavez's image on public buildings was also outlawed under the new decree.
Grass-roots bodies often use crudely-drawn pictures of Mr Chavez to show their support, rather than slicker, government-sanctioned publicity.
However, the government will have a tough time enforcing the ban.
As soon as you arrive in Venezuela, you are greeted by the image of President Chavez.
His face adorns tens of thousands of billboards, posters and buildings across the country - generally next to a slogan proclaiming the achievements of his socialist reforms.
'Comandante'
But now the Venezuelan government wants to take back some control of the president's image.
It has banned the use of the "name, image or figure" of Hugo Chavez on "infrastructure projects, constructions, educational establishments or public buildings of any kind" unless express permission of the president has been granted.
While opposition leaders have long criticised what they see as the expropriation of public spaces using pro-Chavez murals in Caracas and other cities, this step is unlikely to have been taken in order to placate them.
The reason given for the law is that the president's image "should be employed under controls which permit his identification as such, in the honourable role of first leader".
However, dozens of pro-Chavez graffiti groups - many of them government-sponsored - are unlikely to stop painting pictures of the man they call "Comandante".