Venezuela deports left-wing 'rebels' to Colombia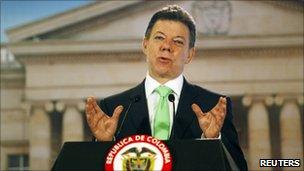 Venezuela has deported three suspected left-wing rebels to Colombia, a sign of improving relations.
Colombia says one belongs to the Farc rebel group, while the other two allegedly belong to the ELN.
Earlier this year, then Colombian President Alvaro Uribe alleged Venezuela was harbouring rebels.
The deportations came a day after Colombia promised to extradite a drug suspect, Walid Makled, to Venezuela rather than the United States.
Venezuela's President Hugo Chavez had expressed concern that a trial in the US for the Venezuelan national might be used to wrongly implicate his government in drugs trafficking.
Mr Makled, who is accused of smuggling tons of cocaine into the US, has alleged he was supported by Venezuelan officials.
In July, Venezuela broke off diplomatic ties with its neighbour, following accusations that it allowed guerrillas from the Revolutionary Armed Forces of Colombia or Farc to operate from camps within Venezuela.
Relations between Mr Chavez, and his then counterpart, Mr Uribe, were particularly strained.
However, tensions have eased considerably since the inauguration in August of the current Colombian President, Juan Manuel Santos.
Related Internet Links
The BBC is not responsible for the content of external sites.