Mine jobs protest for 33 Chilean women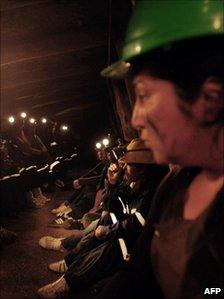 Thirty-three women in Chile have shut themselves in a mine after a government jobs programme that helped the victims of last February's earthquake ended.
The women, in an echo of the story of the 33 trapped and then rescued miners, went into a former coal mine 500km (300 miles) south of Santiago.
"We've done many things to be taken into account but the government hasn't listened to us," a spokeswoman said.
The rescue of the miners made headlines around the world.
The women were part of an emergency works programme generating jobs at one point for some 12,000 people in regions seriously affected by February's devastating earthquake.
The project, administered by the Military Works Corps (CMT), included clearing rubble and reconstruction in the wake of the 8.8 magnitude quake.
It came to an end on 4 November in two of the worst-hit regions, Maule and Bio Bio, leaving some 8,000 without work.
The protesters want the programme to continue and be included in the 2011 budget, which is currently being debated in Congress.
The group of 33 have gone some 500m inside the Chiflon del Diablo mine, while another 100 people have been protesting at the mine entrance.
"The (government) is obliging us to take measures of force," a spokeswoman for the protesters, Brigida Lara, told Chilean media.
The mine in the town of Lota in Bio Bio has been a tourist attraction for a number of years.
A tourism official, quoted by the Spanish news agency Efe, said the women's protest should come to a peaceful end "to avoid any destruction or damage to a historic site".
The 33 miners were trapped on 5 August in northern Chile and rescued more than two months later in an event covered live on television.
Related Internet Links
The BBC is not responsible for the content of external sites.