Museum halts Paraguay mission after fears over tribe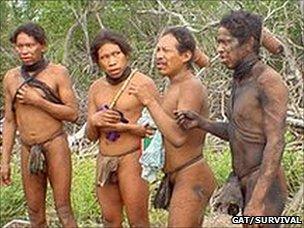 London's Natural History Museum has suspended a planned expedition to a remote region of Paraguay after protests that it might disturb one of the world's last uncontacted tribes.
Campaigners had warned that the expedition to the Chaco region was likely to encounter the Ayoreo people.
Contact might expose them to infectious diseases that could wipe them out.
The 100-strong expedition was due to set off in the next few days in search of new species of plants and insects.
The Natural History Museum said the trip would now be delayed while its partners, the Paraguayan environment ministry, consulted further with indigenous representatives.
It said it took concerns about uncontacted tribes extremely seriously.
The museum added that the expedition to record the rich biodiversity of the Dry Chaco region was important to the future management of the fragile ecosystem.
The trip is one of the largest the museum has organised in many years.
The Chaco, a semi-arid lowland area of forest and thorn scrub that stretches into Argentina, Bolivia and Brazil, is one of the last great wildernesses of South America.
It is the only place in the continent outside the Amazon where uncontacted tribes are known to live.
Anthropologists estimate that around 150 Ayoreos in six or seven groups are still living a traditional hunter-gatherer existence in the region.
The nomadic groups live in voluntary isolation, rejecting all contact with outside society.
Hundreds of others have left the area in recent years as the natural vegetation has been cleared by farmers and cattle-ranchers.
It is through these settled Ayoreos that the uncontacted groups have made it known that they wish to be left alone.
Anthropologists and indigenous campaigners fear that accidental contact with the expedition would put the Ayoreo at risk of infectious diseases that could wipe them out, and drastically disrupt their traditional lifestyle.
Related Internet Links
The BBC is not responsible for the content of external sites.