Haiti's football heroes bounce back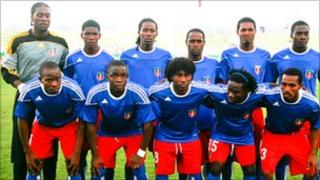 It's been a tough year for the people of Haiti not least for the national football team.
Following a devastating earthquake, an outbreak of cholera and a recent hurricane, the Caribbean country has been ravaged, leaving more than 200,000 dead and 1.5 million homeless since January 2010.
The impact of such events has left the national football team devoid of training facilities and their FA headquarters, which were both destroyed in the wreckage.
At least 30 people connected to Haitian football including players, coaches and referees were also killed in the 7.0 magnitude quake.
The most tragic of those cases involved Haiti international and Swindon Town defender Lescinel Jean-Francois who lost his 11-year-old sister Erica in the tragedy.
She was initially declared missing but was found dead weeks later in the rubble.
Club commitments
"It's really hard," Jean-Francois told World Football's Alan Green on the BBC World Service. "It's now a part of my life but I only think about it when I'm off the pitch.
"It was difficult for me and my family having to wait and find her. It was good news to find her but unfortunately she wasn't alive."
Known as Lex to his team-mates - he was unable to play in the recent Digicel Caribbean Cup in Trinidad and Tobago due to club commitments.
Despite their problems at home and with the help of their sponsors, the rest of the Haitian team managed to train in Brazil ahead of the tournament.
While they narrowly failed to get beyond the qualifiers in Group F - drawing 0-0 with Guyana in the opening match before beating St Vincent 3-1 and going down 4-0 to Trinidad and Tobago - Francois said it was important that his side took part.
"I do think it's right the national team is playing again because they need it, they need to keep their mind on something else other than the earthquake," he said.
"It is never easy when you wake up every morning and you think of the same thing and have the same problem. Everybody loves football in Haiti."
Coach Edson Tavares also remains optimistic following his side's participation in the tournament.
"We have a difficult situation in Haiti," he said. "The average age is 22 in the team, we have only three players over 26 so we have a good future."
Tragic year
Fifa has donated $3 million (£1.9 million) to help rebuild the team's football facilities and FA headquarters which were destroyed by the earthquake.
Their next challenge is to qualify for both the London 2012 Olympics and the 2014 World Cup in Brazil.
Their last and only appearance in the World Cup came in 1974 in what was formerly West Germany.
They lost all three group games but put in brave performances against Italy and Argentina.
Summing up the situation in Haiti, broadcaster Jean Pierre Etienne, said the team are passionate about their future in the wake of such a tragic year.
"After the earthquake we suffered a lot and this national team is ready to bounce back after the earthquake," he added.
"Life must go on and we have to continue with our passion."