Haiti cholera death toll rises sharply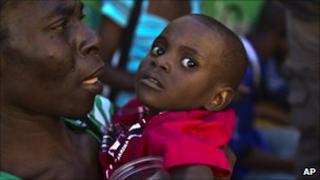 Cholera is spreading quickly in the Haitian capital of Port-au-Prince, as the death toll rises across the quake-hit country.
More than 80 people have died in the last 24 hours across the country, according to the health ministry, taking the death toll to 724.
Three people have already died of the disease in Port-au-Prince, after it was confirmed in the city early this week.
Officials say six out of 10 regions are now reporting infections.
More than 11,000 people have been infected in total since the outbreak began in October. There have been about 1,000 new cases recorded each day this week, with the death toll rising steeply as the days pass.
Aid agencies are battling to contain it in Port-au-Prince, amid fears that it will spread through tented camps which house 1.1m earthquake survivors.
"We greatly fear a flare-up in the capital which would be serious given the conditions in the camps," Claude Surena, president of the Haitian Medical Association, told AFP.
"If cholera cases continue to rise at this rate, we'll quickly be overwhelmed," warned Yves Lambert, head of infectious diseases at the main public hospital in the city.
Meanwhile, the first portion of US financial aid for reconstruction in Haiti is on its way, more than seven months after it was promised to help the country re-build after the earthquake in January.
The $120 million (£74m) - about a tenth of the amount pledged in total by the US - has faced several delays.
Only 37.8% of the money pledged by all countries for 2010-11 has been delivered to the poverty-stricken nation.
'Exacerbated'
A spokesman for the World Health Organisation in Haiti, Christian Lindmeier, told the BBC that cholera hadn't yet been detected in neighbouring Dominican Republic, despite concern that the epidemic could cross the border.
The disease broke out in the Artibonite River valley in central Haiti in mid-October and initially seemed to have been contained, but cases have since soared.
Flooding caused by Hurricane Tomas is believed to have exacerbated conditions and helped spread the disease further, officials have said.
The storm at the end of last week left 20 people dead, with 36 injured and 11 missing.
Cholera causes diarrhoea and vomiting, leading to severe dehydration. It can kill quickly but is treated easily through rehydration and antibiotics.