Chile football row spreads to President Pinera
By Gideon Long
BBC News, Santiago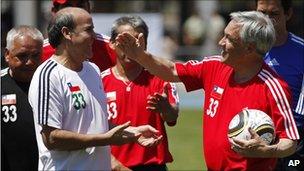 Chilean President Sebastian Pinera has become embroiled in a conflict of interest row which is threatening to take the shine off his image as the man who oversaw the successful rescue of the 33 trapped miners last month.
Mr Pinera has been accused by opposition politicians of meddling in the elections for a new president of the Chilean Football Association.
He vehemently denies the charges, describing them as "miserable and despicable".
The row follows the recent resignation of Chile's highly popular football coach, Argentine Marcelo Bielsa, in the wake of the football association elections.
Some football fans accuse Mr Pinera of effectively forcing Mr Bielsa out.
One recent opinion poll, carried out by local radio station Radio Cooperativa, found that 57.7% of respondents believed that Mr Pinera had intervened in the elections. Some 87.5% of respondents regarded Mr Bielsa's departure as bad for football.
The centre-left opposition has called for a parliamentary inquiry into the football association elections, which were won by a Spanish businessman, Jorge Segovia.
Mr Bielsa announced his departure once the results were known, saying he could not work with Mr Segovia.
The Spaniard won thanks to the backing of Chile's big football clubs, including Colo Colo, the best supported and most successful club in the country. Mr Pinera owns a 12.5% stake in Blanco & Negro, the holding company that owns Colo Colo.
Opposition politicians say they suspect that Mr Pinera intervened in the election to try to ensure Mr Segovia's victory because he thought it would be in Colo Colo's best interests.
"This has Pinera's fingerprints all over it," said Pepe Auth, an opposition member of parliament.
Other politicians said that even if Mr Pinera had not meddled in the elections, he should relinquish his stake in Blanco & Negro anyway to clarify his position.
"The origin of this problem is that he didn't take a clear decision when creating a wall between his private interests and the public role of the authorities," said Carolina Toha, leader of the opposition Party For Democracy.
"That's what's led to this argument."
Mr Pinera, a billionaire businessman, relinquished control of most of his financial assets when he became president in March. He sold his shares in airline LAN and his stake in a national television channel.
But he held on to his Blanco & Negro shares, arguing that they did not represent a conflict of interest with his role as president. He has threatened legal action against his accusers, saying they are throwing "lies, lies, in the hope that something sticks".
"I'm sure that if I sell (my shares in) Colo Colo, they're going to insist that I sell my bicycle next. This will go on for ever," he said.
However, in recent days Mr Pinera has indicated that he would be willing to reconsider his position regarding his stake in the club.
Meanwhile, Mr Segovia's opponents have launched a legal challenge to his victory, saying that he too has failed to reconcile his business and football interests. If the challenge is successful, the football association elections might have to be run again.
Related Internet Links
The BBC is not responsible for the content of external sites.