Haiti cholera 'resembles South Asian strain'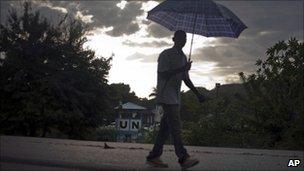 US health authorities have said that the cholera strain which has killed more than 330 people in Haiti most closely resembles a South Asian strain.
The US Centers for Disease Control found that Haitian cholera patients had all been infected with the same strain.
Haiti's health minister said the outbreak was unlikely to have originated in the country.
The UN is investigating allegations that excrement from Nepalese peacekeepers caused the epidemic.
But Health Minister Dr Alex Larsen said it was unlikely the outbreak's origin would ever be known.
"Although these results indicate that the strain is non-Haitian, cholera strains may move between different areas due to global travel and trade," he said, according to Agence France-Presse.
He added that the strain was probably transmitted by contaminated food or water, or an infected person.
The Nepalese camp had become the object of local suspicion partly because cholera is very rare in Haiti but endemic in Nepal.
The UN had said last week that tests taken from the peacekeepers' camp and adjacent waters were found to be negative but, following the announcement, a spokesman said the agency was looking into the matter.
The US federal health agency said that cholera does not normally spread widely within a country if drinking water and sewage treatment are adequate.
Poor sanitary conditions make the camps and slums where many are living after the country's January earthquake vulnerable to cholera, which is caused by bacteria transmitted through contaminated water or food.
Some 1.3 million survivors of the devastating quake are living in tent camps in and around the capital.
Health experts say they expect the outbreak will soon lessen but the disease will eventually join malaria and tuberculosis in becoming endemic in Haiti.
Related Internet Links
The BBC is not responsible for the content of external sites.