Tomas weakens after whipping Caribbean isles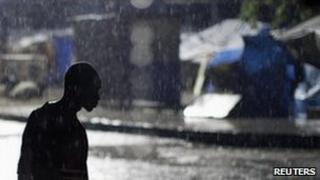 Tropical Storm Tomas is continuing to swirl through the Caribbean, after hitting St Lucia and St Vincent in the Windward Isles over the weekend.
The storm system has lost its hurricane status but US forecaster say Tomas could strengthen in the coming days.
The storm is forecast to head in the direction of Haiti, where some 1.3 million people are still living in tents since January's earthquake.
Tomas ripped off roofs and cut off electricity in St Lucia and St Vincent.
Heavy rains also caused flooding and landslides.
"There is also serious damage to fruit trees, bananas and other infrastructure, and this is going to cost the state millions," St Vincent Prime Minister Ralph Gonsalves said.
By early on Monday, the storm's maximum sustained winds had decreased to 50mph (85km/h) but the National Hurricane Center in Miami said Tomas could begin regaining strength by late on Tuesday.
In Haiti, aid workers voiced concern that the country was ill prepared for heavy rain and strong winds given the large numbers living in tents.
Haiti has also been stricken recently by a cholera outbreak that left more than 300 people dead.
"We are so stretched already with the cholera, and we are running a daily earthquake response as well," said Imogen Hall, of the UN Office for the Co-ordination of Humanitarian Affairs.