Political tests ahead for Brazil's Dilma Rousseff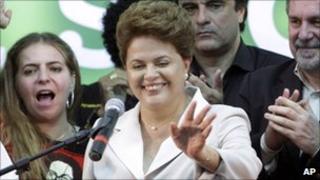 There was not the same kind of excitement nor the huge crowds seen in 2002 when Luiz Inacio Lula da Silva was elected the first Brazilian president with roots in the working class.
But on Sunday night, thousands of people did take to the streets of Brazil, carrying the Workers' Party red flags, to celebrate the election of the country's first female president, Dilma Rousseff.
"Finally we will have a woman governing this country. I am sure she will do what all men so far haven't managed to," said nurse Andrea Fetres at a victory party at Sao Paulo's Paulista Avenue.
Like many other young female supporters, Ms Fetres was wearing a T-shirt, in her case, pink, with a mugshot of Dilma Rousseff taken by the police when she was arrested in 1970 for membership of an armed group that opposed the military dictatorship.
In her victory, Ms Rousseff herself described the election of a woman as an "evolution of Brazilian democracy", even though during the campaign she did not play the gender card.
"It's an immense joy to be here today. I received from millions of Brazilian men and women the most important mission of my life," said Ms Rousseff.
Lula effect
It may not have been the landslide first round win that President Lula had hoped for but, in the end, he saw his chosen successor elected by a comfortable margin in the run-off vote. Ms Rousseff received 56% of the votes against 44% for the opposition challenger, Jose Serra of the Social Democratic party (PSDB).
Mr Serra did better than many people expected. His strategy was to avoid attacks on the Lula government and to try to portray himself as the best-prepared person to build on the current president's social and economic achievements.
The social democrat did manage to get significant support - he won in the richer regions of the country while Ms Rousseff had a large lead in its poorer parts - but it was an uphill struggle to try to take votes away from a government boasting approval ratings of about 80%.
"Many said it would an impossible mission, even for Lula da Silva, to get elected an uncharismatic civil servant who had never run for office before but he has managed to pull it off," says David Fleischer, politics professor from the University of Brasilia (UnB).
Lula did not manage to transfer all his popularity on to Ms Rousseff - or victory would have been certain without a run-off - but most analysts agree that, nevertheless, he has done a very good job.
"We can say that all votes Dilma Rousseff received actually belong to Lula. If she had a political background she could have built on top of the president's support, but she really doesn't," says political scientist Fernando Abrucio, from Sao Paulo's Getulio Vargas Foundation (FGV).
Negotiating skills
The four months of the election campaign did not do much to help voters know more about what Ms Rousseff has in store for the country for the next four years.
She has promised to continue Lula's left-leaning policies but did not go into detail about her actual programme.
Mr Abrucio says it is impossible to know what her government will be like based on her campaign to get elected.
"I have seen in-depth polls showing that people didn't like this campaign. One thing we heard a lot from voters was that they had the impression candidates were not respecting the people."
Ms Rousseff is considered to be a tough and efficient manager but she has not yet shown strong political skills, especially when compared with President Lula, who is often described as a master negotiator.
"She may be an experienced manager but she will have to learn a lot of politics to be able to negotiate with Congress and govern the country," says Bernardo Wjuniski, a political consultant with Sao Paulo consultancy firm, Tendencias Consultoria.
Ms Rousseff will have a clear majority in the Congress - her Workers' Party (PT) elected the highest number of members, with their main ally, the centrist PMDB, coming in second - but this does not mean that she will have an easy ride.
"The PMDB is a party that demands a lot for their support. Ms Rousseff will need to negotiate a lot to get what she needs from them," says Mr Wjuniski.
Since Brazil is experiencing a good economic moment and enjoys political stability, Ms Rousseff can expect a relatively easy beginning for her government.
But the question remains whether she will have the skills to handle political or economical crises if - or when - they happen under her watch.