Brazil votes for new president, Rousseff tipped to win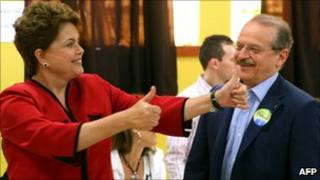 Brazilians are voting to choose a new president to succeed the popular Luiz Inacio Lula da Silva.
Opinion polls suggest the governing Workers' Party candidate Dilma Rousseff has a clear lead over Jose Serra of the opposition Social Democratic Party.
Ms Rousseff has enjoyed the full support of President Lula, who is leaving office after two terms with record popularity ratings.
If she wins, she will become Brazil's first woman president.
More than 130 million voters are going to polling stations all across Brazil which opened at 1000GMT and are due to close at 2100GMT.
Brazil uses an electronic voting system, and final results are expected within hours of the polls closing.
This second round of voting was forced after Ms Rousseff fell short of the 50% needed in the 3 October first round. She won 47% to Mr Serra's 33%.
Several opinion polls published at the weekend suggested Ms Rousseff could win the second round with a lead of 10 to 12 percentage points.
She flashed a victory sign and gave a big smile to photographers after casting her vote in the southern city of Porto Alegre.
Tough campaign
The rival candidates both held their final campaign rallies on Saturday in Belo Horizonte in Minas Gerais, which is seen as a key swing state.
Ms Rousseff exuded confidence as she toured the city in an open-topped car.
"I will govern for all Brazilians. There will be no discrimination of parties. I will not govern only for my coalition", she said.
Across town, Mr Serra insisted he was still very much in the race.
"The real opinion poll is the ballot box," he said, urging his supporters to keep fighting for every last vote.
The BBC's Paulo Cabral in Sao Paulo says Mr Serra has done better than many people expected in a campaign filled with personal attacks and corruption allegations.
But our correspondent says it has been an uphill struggle to take votes away from a government boasting 80% approval ratings.
The key factor will be how some 20 million Brazilians who backed the Green Party's Marina Silva in the first round will vote.
Ms Silva has not endorsed any candidate.
Jose Serra, 68, is a former governor of Sao Paulo, Brazil's most populous state, and a former health minister.
Campaigning under the slogan "Brazil can do more", he has promised better management of government rather than a radical change of policy.
Ms Rousseff, 62, President Lula's former chief of staff, has never before run for elected office.
She has promised to continue policies that have helped bring years of strong economic growth.
Mr Lula has been active and highly visible in her election campaign. He has to step down after completing the maximum allowed two consecutive terms.