Brazil presidential campaign enters final stretch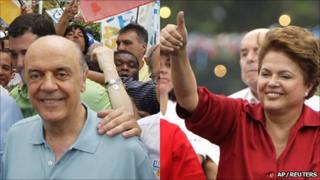 Brazil's election race is in its final stretch with Dilma Rousseff and Jose Serra stepping up their campaigning.
Both candidates are targeting key regions to win over undecided voters ahead of the 31 October election.
Opinion polls suggest Ms Rousseff, of the governing Workers' Party, has increased her lead over Mr Serra, from the Brazilian Social Democracy Party.
The two will hold a penultimate televised debate on Monday night, with a final TV debate set for Friday.
On Sunday, Ms Rousseff and Mr Serra were both in Rio de Janeiro, the country's third biggest region in voting terms after Sao Paulo and Minas Gerais.
"You came and accompanied the procession. It was marvellous. There's a party feeling in this final stretch of the election," Ms Rousseff told supporters.
Mr Serra, who was out campaigning in Copacabana Beach struck a similarly upbeat note
"This rally shows that we can, and that we will, turn this campaign to victory. We have seven days left, seven days that will change Brazil's history," he said.
Mr Serra faces an uphill task, according to the opinion polls. The most recent surveys have him trailing Ms Rousseff by some 10 percentage points.
The key factor will be how some 20 million Brazilians who backed the Green Party's Marina Silva in the first round will vote.
Ms Silva has not endorsed any candidate.
Ms Rousseff, President Lula's former chief of staff, has never before run for elected office. Lula, who enjoys approval ratings of 82%, has been active and highly visible in her election campaign.
He has to step down after completing the maximum allowed two consecutive terms.
In the 3 October first round, Ms Rousseff won 47%, short of the 50% plus one majority needed, while Mr Serra secured 33% of the vote.