Mercosur complains about Falklands missile tests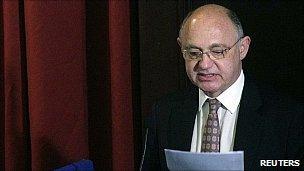 Several South American countries from the Mercosur trade bloc have officially complained to the UK over planned Falkland Islands military exercises.
A recent series of missile tests were also criticised.
Brazil, Uruguay and Paraguay joined protests from Argentina, which lays claim to what it calls the Malvinas.
The official communique issued by Mercosur said it was nonsense to suggest that the military drills were merely routine exercises.
The Latin American foreign ministers concluded that if Britain continued to test missiles in or around the Falklands, it would be tantamount to a violation of international maritime law.
The Argentine Foreign Minister, Hector Timerman, welcomed the strong show of support for his country from its neighbours.
"The UK's refusal to negotiate a peaceful solution to this problem and the self-confidence with which it seizes our natural resources in the seas off Patagonia and at the same time tests missiles from our islands , are seen as acts of aggression not only in Argentina," Mr Timerman said.
"Each day, there are more and more fellow South American nations that understands that a permanent member of the UN Security Council is behaving like something from the colonial past."
Tensions have increased recently between Argentina and the UK over the Falklands, since Britain began looking for oil and gas in the waters around the islands.
This week Argentina sent a protest letter to the London-based UN agency, the International Maritime Organisation, about the missile tests in the Falklands.
The Argentine government has repeatedly demanded that the military drills are cancelled, calling them an act of provocation.
Argentina and Britain went to war in 1982 after the then Argentine military rulers decided to invade the Falkland Islands.