Week's wait for mayoral result in Peruvian capital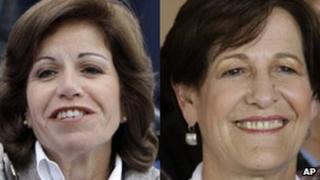 Two women competing to be mayor of the Peruvian capital, Lima, will have to wait another week for the result.
Initial results gave a narrow victory the left-wing candidate, Susana Villaran over her conservative opponent, Lourdes Flores.
But more than a quarter of the ballots - more than a million votes - have been challenged and will have to reviewed.
Whichever candidate wins, Lima will have its first female elected mayor since it was founded in 1535.
In initial results, the national electoral office gave Mrs Villaran 38.4%, against 37.58% for Lourdes Flores, a victory margin of less than 1%.
If her victory is confirmed, Ms Villaran, a 61-year-old human rights advocate, will be the first left-wing mayor since the early 1980s.
But with the gap so narrow, Ms Flores, who has twice been a contender in presidential elections, says she can still emerge as the winner.
Most of the challenges have been made on technical grounds by members of her PPC-UN party.
In regional and municipal elections across the rest of Peru, the main national parties have lost ground to independent parties with more local agendas.
The results suggest that the presidential election in six months time will be an unpredictable contest.
Opinion polls make Keiko Fujimori, a conservative congresswoman and daughter of the disgraced former President, Alberto Fujimori, the front-runner, ahead of the current Lima mayor, Luis Castaneda.
President Alan Garcia is constitutionally barred from standing for reelection.