Puerto Rico police held in huge FBI anti-drugs sting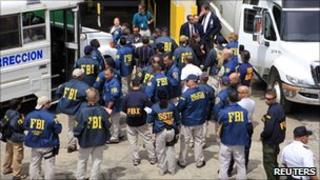 US federal agents have arrested more than 70 Puerto Rican police officers on drugs-related charges.
In all more than 120 people have been charged, including prison guards and soldiers.
The US justice department said the arrests followed "the biggest police corruption investigation in the history of the FBI".
About 750 FBI agents were flown into the US Caribbean territory to help round up the suspects.
The justice department said that in all, 89 law enforcement officials had been detained: 60 members of the Puerto Rico police department, 16 municipal police officers and 12 prison officers. Also arrested were three Puerto Rico national guard soldiers, two US army officers, and 30 civilians.
Dealer protection
The charges were the result of 125 undercover drugs transactions conducted by the FBI in Puerto Rico.
Many of the detained police officers are accused of providing armed security for cocaine dealers in return for cash.
"The justice department's commitment to rooting out and eradicating alleged corruption in our law enforcement ranks has never been stronger," said US Attorney General Eric Holder.
"This department has one message for anyone willing to abuse the public trust for personal gain: you will be caught, you will be stopped and you will be punished."
The island of Puerto Rico is a major hub for smuggling drugs into the US.
The reputation of its police department has already been tarnished by allegations of brutality and corruption.