Ecuador increases police and army wages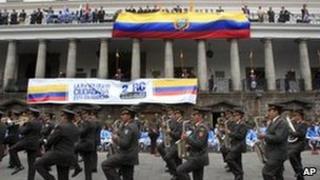 The Ecuadorean government has increased army and police pay for several ranks, just days after police rebelled over a law scrapping their bonuses.
Officials said the rise was not linked to last Thursday's unrest during which several people died.
Soldiers had to rescue President Rafael Correa from a Quito hospital where he had taken refuge after coming under tear gas fire from disaffected police.
Mr Correa has said revolt amounted to a coup attempt.
The pay increases, of between $400 (£251) and $570 (£359) are for four ranks of the military and police, and will be backdated to January this year.
The increases take an army captain's salary from $1,600 to $2,140, while a major would see his wage go from $1,870 to $2,280.
On average, Ecuadorean police officers earn about $700 a month, although it was not clear how many officers qualified for the increase. The minimum salary in Ecuador is about $240 a month.
Defence Minister Javier Ponce said the pay rises were unconnected to the police rebellion.
The unrest began on Thursday morning when police angry at austerity measures occupied several barracks and set up road blocks across the country.
Officers fired tear gas at President Correa as he confronted them at an army barracks in the capital. When he was taken to a nearby hospital for treatment, protesters surrounded the building, trapping him inside for more than 12 hours.
He was eventually rescued by soldiers under cover of darkness.
The protests were the most serious challenge for Mr Correa, who took office in 2007 and won a second term in 2009.
The law eliminating police bonuses took effect on Monday.