Bolivian president Evo Morales in football clash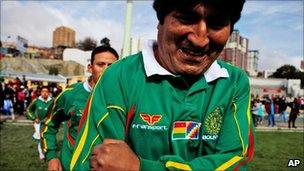 Bolivian President Evo Morales has been caught on camera apparently kneeing an opponent in the groin during a football game.
The kick, which came after the president had been fouled, happened during a friendly match against a team led by the mayor of La Paz.
The opposing player and one of Mr Morales' bodyguards were both sent off.
Reports say police tried to arrest the opposition player at the end of the match before the mayor intervened.
Evo Morales led out a team of his governing Movement towards Socialism (Mas) party against the opposition Movement Without Fear (MSM) led by the mayor of La Paz, Luis Revilla.
The match was a friendly to inaugurate a new football field in Pa Paz, Bolivia's political capital.
But within five minutes, things turned nasty.
Mr Morales was fouled by an opposition player, Daniel Gustavo Cartagena.
In an apparent retaliation caught on video, he was seen kneeing Mr Cartagena in the genitals, sending him sprawling.
"I passed the ball and, suddenly, I got hit, and not for the first time," the president said later.
After receiving treatment for injury, Mr Morales played on, and scored a goal.
The match ended 4-4, with four players sent off, including Mr Cartagena and one of the president's bodyguards.
After the final whistle, police tried to arrest the opposition player, but were stopped by Mr Revilla, local media reported.
"This was a football match, and on the pitch we are all players. It was just a clash. I am not moving while one of my players is in danger," Bolivian newspaper La Razon quoted the mayor as saying.
Doctors have advised Mr Morales to rest for several days to recover from bruising to his right leg.
Mr Morales, 50, is a keen football fan and no stranger to controversy on and off the pitch.
In 2007 he played a match at 6,000m (19,700 ft) above sea level in a protest against efforts to stop Bolivia playing its international fixtures at high altitude.
And in 2006 he suffered a broken nose in a clash with a goalkeeper.