Colombia lowers landslide deaths from 30 to 10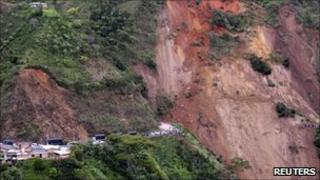 Colombian authorities have revised the number of victims believed buried by a landslide last week from 30 to 10.
Most of those caught by the mudslide in Antioquia province were bus passengers who were walking across a road blocked by an earlier landslip.
"Officially we have 10 people missing based on reports of relatives," an official said.
Weeks of heavy rain across Colombia have caused floods and landslides that have killed more than 70 people.
On 27 September, a mountainside collapsed near Giraldo, 80km (50 miles) north of the city of Medellin.
Initially, the authorities feared some 30 people had been swept away.
Although they have now reduced the official toll to 10, they say there is still a chance some victims have not been reported missing.