Deadly Tropical Storm Nicole hits Jamaica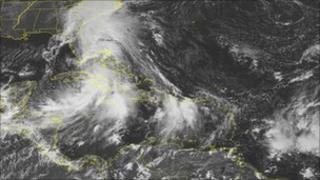 At least two people have been killed and about 12 others are missing after Tropical Storm Nicole triggered flash flooding in Jamaica, officials say.
In one incident, a boy died after the house he was staying collapsed into a raging torrent outside Kingston. Six members of his family are missing.
Separately, an elderly man drowned near the island nation's capital. Power was also cut to many areas of Jamaica.
Nicole later dissipated over the Florida straits, US forecasters said.
However, the Miami-based National Hurricane Center (NHC) said Nicole, with winds of up to 65kmh (40mph) and moving north-east, still posed a flooding threat to the Cayman Islands, Cuba and Jamaica.
The NHC also warned that rains were expected in the US state of Florida and the Bahamas.
Nicole is the latest storm of the Atlantic hurricane season.