Landslide buries 30 in north-western Colombia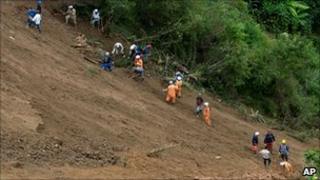 As many as 30 people may have been buried by a landslide in north-western Colombia, government officials say.
Most of the victims were bus passengers who were walking across a road blocked by a previous landslide when a mountainside collapsed on top of them in the Antioquia province on Monday.
Local houses where some took shelter were also swept away.
Search and rescue efforts have now been suspended for the night, as people are buried under many tons of rock and mud.
"Tonight we've suspended the search for victims. Despite the huge effort, our work has gone unrewarded due to the enormous amount of earth that has fallen," Antioquia's Disaster Prevention and Assistance System chief John Rendon told the AFP news agency late on Tuesday.
The disaster triggered by heavy rain happened near Giraldo, 80km (50 miles) north of the city of Medellin.
"It was horrible because we heard a rumbling and looked out to see people running to the houses and then they were also swallowed by the earth," local resident Milena Ramirez told the Colombian newspaper El Tiempo.
Warnings 'ignored'
Red Cross sniffer dogs have identified locations where the victims are buried, but officials say it could take several days to dig them out.
The rescue effort has also been hampered by the risk of further landslides.
President Juan Manuel Santos, who visited the scene, said people had ignored warnings to stay away from the site of the previous landslide.
"Sadly, the people who were moving from one bus to another did not pay attention to the authorities," he said. "We are doing everything we can to find them."
Mr Santos said Colombians should prepare for "a very tough winter".
Weeks of heavy rain across the country have caused floods and landslides that have killed more than 70 people.