Narcocinema: Mexico's alternative film industry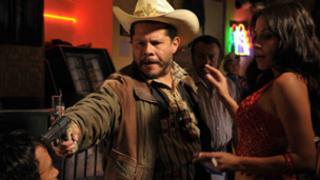 The films are low-budget, gruesome, and some are financed by drug barons - yet "narcocinema" is big business in Mexico.
When suspected drug baron Edgar Valdez was captured last month, not only did he confess to leading an international criminal organisation, but he also admitted to spending $200,000 (£126,000) on a movie of his life.
His admission cast new light on a film genre that has limited distribution, but has been hugely popular in parts of Mexico for many years.
Narcofilms - usually low budget and poor quality - sell on DVD in shops in northern Mexico and the south of the US.
Narcocinema producers hope their fictional accounts of drug barons' lives will be given credibility because they take their inspiration from supposedly true stories.
Those stories are at the core of narcofilms such as El Pozolero (The Stew-Maker).
It is based on the gruesome story of gangster Santiago Meza Lopez, who rose to fame last year when he told the authorities that he had disposed of more than 300 corpses in tubs of acid.
'Ideal characters'
Another recent film, Narcofosas (Narco Graves), is a fictional story about a mass grave like the dozens that have been found around Mexico in the last few years, used by the cartels to bury their victims.
The plots often include criticism of the authorities - corrupt policemen with links to the barons abound - and poke fun at the media's coverage of the drug conflict.
Miguel Marte, who directed Narcofosas and more than 150 other narcofilms, says drug barons are "ideal characters".
"They're violent, they use weapons, they have trucks and women," he says.
However, he denies allegations that drug barons are the main financiers of narcofilms, and distances himself from movies like the one commissioned by Valdez.
He says he has never met a drug baron, nor been in contact with them.
He also rebuffs accusations that this type of films glorifies violence by glamourising the lifestyles of the criminals accused of sparking the drug conflict that has killed more than 28,000 people since late 2006.
"Drug traffickers fascinate people, but that doesn't mean that people are going to go and do what they do," he says.
Big-budget violence
Ironically, Mr Marte admits that the profits from narcofilms are dwindling; pirated copies of the films - a business many in Mexico consider to be another source of income for cartels - abound in the streets of Mexico City.
As the fortunes of narcocinema appear to be waning, mainstream cinema has begun to reflect Mexico's increasingly troubled present.
El Infierno (Hell) is anything but a narcofilm: big budget, lots of publicity and a wide release in cinemas all around the country.
But by putting the current drugs conflict at its core as no other Mexican mainstream movie has ever done, many see it as a turning point in the treatment that the conflict gets on celluloid.
The film tells the story of Benny, a Mexican migrant who, deported after 20 years in the US, comes back to find his hometown ravaged by violence and drug trafficking.
"It's our daily bread... Remember, we are at war," a woman tell Benny as he discovers a dead body in the main street of the town as soon as he arrives.
Eventually, Benny gets involved with the criminal gang that rules the town.
El Infierno, directed by Luis Estrada, a renowned Mexican filmmaker, is a political satire which lashes out at the government's attempt to fight the cartels.
But it contains violent scenes, and some have criticised its brutal depiction of life in some parts of Mexico.
"Many say that I'm a bad Mexican, and I actually think it's the opposite," Mr Estrada says.
"It's my love for the country, and it comes out of my concern for saying what is happening in the country."
Nazario Sepulveda, writing in Mexican daily Milenio, is among many critics who have welcomed the director's candour.
He described El Infierno as "not a movie for escapists", adding: "The truth hurts, and it hurts a lot."