Brazil election front-runner Rousseff holds final rally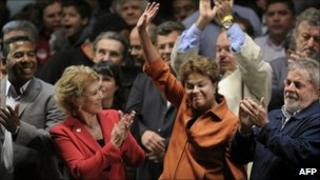 The favourite to be Brazil's next president, Dilma Rousseff, has held her last campaign rally ahead of Sunday's election.
Flanked by President Luiz Inacio Lula da Silva, Ms Rousseff told supporters gathered at Sao Paulo's sambadrome that she represented continuity.
Ms Rousseff has seen her lead in the polls shrink slightly in recent days.
But she could still be on course to win outright in the first round and become Brazil's first female leader.
As rain poured down, Ms Rousseff, 62, told the crowd that she aimed to honour President Lula's legacy and continue his work.
"We Brazilian women are competent to govern this country and give it as much pride as President Lula gave it. This president, who has a place in the heart of every Brazilian," she said.
Lula, who is constitutionally barred from standing for a third consecutive term, enjoys approval ratings nearing 80%.
He has used his considerable charisma and political weight to campaign heavily for Ms Rousseff, who worked as his chief of staff from 2005 until earlier this year.
Lula told the rally Ms Rousseff had a long history of fighting oppression - a reference to her days when she was part of the underground resistance to the military dictatorship that ruled Brazil from 1964 until 1985.
"It's not about only electing a woman, it's electing a comrade who has history. It's electing a comrade who has commitment. It's electing a comrade who knows the joy and pain of having fought against an authoritarian regime, to give us this day," he said.
Ms Rousseff, from the governing Workers Party (PT) has been leading the opinion polls, well ahead of her main rivals, Jose Serra of the Social Democratic Party (PSDB) and the Green Party's Marina Silva.
However, her advantage has slipped slightly in recent days after corruption allegations surfaced involving her successor in the chief of staff's office, Erenice Guerra.
It has raised the possibility that Ms Rousseff might fall just short of a first round win.
If the election does go to a second round on 31 October, Ms Rousseff is expected to win easily, according to the opinion polls.