Brazilian clown's election bid challenged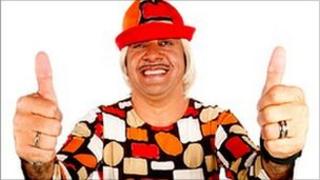 A Brazilian clown who is a favourite to win a seat in congress in Sunday's elections has been challenged to prove he can read and write.
Polls suggest the clown known as Tiririca will win more than a million votes.
But a judge in Sao Paulo has demanded he demonstrate that he meets the literacy requirement for elected office.
Newspapers have reported that, like one-in-10 Brazilians, he is illiterate.
Tiririca - which means "Grumpy" in colloquial Portuguese - has been the sensation of the election campaign, with humorous campaign adverts on YouTube that have attracted millions of hits.
His campaign slogans include "It can't get any worse" and "What does a federal deputy do? Truly, I don't know. But vote for me and I will find out for you."
The judge said wanted him to take a literacy test after the magazine "Epoca" posted a video in which he appeared to struggle to read.
The electoral court says it is too late to stop his candidacy, but he could be removed from office if he fails to show he can read and write after the election.
Celebrity candidates
Tiririca, whose real name is Francisco Everardo Oliveira Silva, started working in a circus at the age of eight in the impoverished north-eastern state of Ceara, and is now a TV comedian.
He is one of dozens of candidates from the world of sport and show-business fighting for one of the lower house of parliament's 513 seats, alongside experienced politicians.
In all there are more than 6,000 candidates from 27 parties.
Another candidate who is predicted to win a landslide victory is the ex-footballer Romario, hero of Brazil's 1994 World Cup victory.
The way the Chamber of Deputies is formed - by an open-list proportional representation system - makes it easier for celebrity candidates to win office.
Analysts say their popularity also reflects a strand of disillusion with mainstream politicians, following numerous corruption scandals.