Expert views: Challenges for Brazil's next president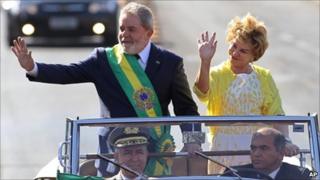 The past eight years under President Luiz Inacio Lula da Silva have seen Brazil grow economically, with millions lifted out of poverty. The country has also become more vocal and visible on the international stage.
Ahead of the presidential, congressional and state elections on 3 October, BBC Brasil asked a range of experts for their views on the challenges facing the country's next leader.
Salil Shetty, Amnesty International
Brazil stands at a historic juncture: strong economic growth and political stability have given it the best chance in its history to confront the long legacy of entrenched inequality, discrimination, and human violations against its poorest citizens. Brazil's new government must build on previous efforts to address inequality through the income transfer schemes like the Bolsa Familia.
It must engage with and support the efforts of Brazil's vibrant civil society and grassroots groups who are at the forefront of the fight for fairer society.
But the new administration must do much more.
Reform of institutions which still the bear the imprint of a more authoritarian era - in particularly the police and the prison system - is urgent. Only by addressing impunity for torture, ill-treatment and summary execution by state officials will Brazil begin to resolve its public security crisis.
Makhtar Diop, World Bank
Brazil is living an exceptional moment, the fruit of decades of hard work. It has achieved impressive social and economic development, reduced poverty by the tens of millions and built an economy that is growing strongly and sailed through the global financial crisis.
It is a leading voice in today's multipolar world - indeed Brazil has been central in moulding it.
However, no development process is seamless, and challenges remain. The country's lively democracy is in full swing, choosing strategies to address persisting issues such as income and regional inequality, lack of infrastructure, education quality, environmental sustainability and land administration.
Huguette Labelle, Transparency International
Brazil is already a major player on the world stage. Four peaceful presidential elections have gone a long way to legitimising its institutions and consolidating its international reputation: today Brazil is seen as an electoral democracy that works.
The challenge now is to strengthen its institutions, make them even more transparent and accountable at all levels of government.
On the world stage, its stewardship of its natural resources will be key. The world watches as the Amazon rainforest continues to shrink and the Brazilian government strives to tackle the problems of deforestation and the demands of its powerful agribusiness community. Similarly, the world community has to live up to this challenge globally.
Kumi Naidoo, Greenpeace International
Brazil is well on its way in transitioning from an "emerging" economy to an "industrialised" one. If I could give just one piece of advice to the next president it would be this: Don't base your ascent on models that have not served the world well. Given the crisis of global warming, only those countries that include "Green" in their economic, technological and social development plans will succeed as leaders of tomorrow.
Brazil stands on the cusp of "super-powerdom" and could tip either way when it comes to being a Green model for the rest of the world.
By resisting the urge to emulate the economic models that have caused the current environmental crisis, Brazil can prove to the world that a new development pathway is possible, one with the best interests of its own citizens and the rest of the planet in mind.
The world needs a Green Brazil.
Jim O'Neill, Goldman Sachs
I think the period for Brazil following the election successor to Lula is very important. Under his stewardship, Brazil has emerged in a way unthinkable for the previous 30 years, with strong GDP growth, low and stable inflation and rising prosperity, and most importantly, a rapidly rising middle class.
Much of this represents good macro-economic policy during Lula's time and that of his predecessor. To keep the momentum going and to shift Brazil from a developing to a developed economy, it is important to keep macro-economic policy stable so that inflation can stay low.
This would allow more tens of millions of ordinary Brazilians to see their incomes grow.
If there is any one single difference between a typical developed economy from a developing one, it is perhaps the size of the middle classes. And the best way for that them to rise and prosper is through rising real incomes.
Kenneth Maxwell, David Rockefeller Center for Latin American Studies, Harvard University
Brazil's emergence as a "developed" nation, and its increasingly active role in international affairs are essentially different questions in my view. And progress on one front is still contradicted at times by behaviour on the other.
There is no doubt, for example, that in trade, and economic matters more generally, and in terms of its economic and political stability, Brazil has become a major international actor.
Brazil entered the recent global downturn late and emerged early. Thus, recognition of Brazil 's new role is clearly justified, and reflects Brazil's real geographical dimension, wealth, economic growth, and its agrarian, mineral, and entrepreneurial strength.
On the other hand Brazil's political and diplomatic interventions have been more problematic. The conflicts between ideological aspiration and everyday practice can led at times to embarrassing dead ends. The nuclear deal brokered by Turkey and Brazil with Iran, for instance, does not mean Iran will agree with President Lula's human rights intervention.
Brazil's active role in the Honduran crisis was ineffective. Brazil's relationships with its immediate neighbours in the western hemisphere remain a mix of necessity and underlying Spanish American resentment.
Suzanne Rosselet-McCauley, IMD World Competitiveness Center
Brazil fared pretty well during the global financial crisis and emerged from recession quicker than most countries. It is probably the country in the region that has the greatest potential for improving competitiveness - growth prospects look good, with some forecasts as high as 7% - and the economy is more diversified and resilient than in the past.
Brazil faces important challenges as it moves from a "middle-income" country to an innovative and knowledge-driven economy.
This will require a strong political will to push through necessary structural reforms (taxes, pensions, labour laws and infrastructure) and diminish the heavy regulatory burden that weighs on business activities, especially cumbersome to start-ups and discouraging entrepreneurship.
Barry Ames, Pittsburgh University
Inequality is Brazil's major problem. Inequality weakens economic growth, leads to high levels of crime and personal insecurity, and forces the nation to spend scarce resources on police and prisons. 
In spite of programmes like bolsa familiar, inequality has hardly moved in the last 20 years. In the current global economy, union organisation cannot lead to significant increases in real wages, and Brazil may be too far behind for improvements in the quality of mass education to make a real difference. 
Brazil can, however, dramatically improve the quality of government services, particularly those reaching the poor. Improvements in health care, sanitation and water supply, and transportation have already been significant, but much more can be done. 
Detlef Nolte, Latin American Studies Institute, German Institute of Global and Area Studies, Hamburg
Bridging the gap between the rich and the poor is still the major challenge for Brazil before becoming a really developed nation.  
I think Brazil has become a major international power. In the future it should take a more a active stance in mediating conflicts in the region (South America), and it should pay more of the costs - like Germany in Europe - for a deeper regional integration. Then its role as the leader of the region will become more accepted by its neighbours.