Brazil's election: The other Da Silva family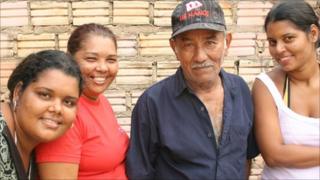 As Brazilians prepare to go to the polls on 3 October, much of the focus has been on the country's strong economic performance in recent years.
One area that has seen a boom is the city of Porto Velho, the capital of the state of Rondonia in the Amazon.
Porto Velho has grown rapidly, with a number of new factories and building projects including the ongoing construction of a hydro-electric dam which currently employs nearly 13,000 people.
This has led to an influx of migrants from other cities. These changes have brought prosperity but also a higher crime rate, more violence, a large increase in traffic accidents and pressure on public services.
The Da Silva family give their views on what they are expecting from the new president to succeed Luiz Inacio Lula da Silva - who has the same surname but is not related.
Manuel Paulino da Silva, 70
Mr Da Silva was born in north-east Brazil and moved to Porto Velho in 1980 with his wife and seven children.
Three months after their move, his wife died. Cleo, the oldest daughter at 16, took responsibility for bringing up her brothers and sisters. She has two daughters, Jeanne and Janaina, and a son, as well as grandchildren.
Manuel, 70, worked in agriculture and then as a cleaner for local government for 21 years.
"Lula has been the best president so far and brought many advantages for pensioners including a free bus pass and increases in the pension although the 410 reais ($240) I get each month is still not very much.
"He has helped the needy to have a more comfortable life. If I were president I would help poorer people because the rich help themselves and their friends; the poor are the friends of the poor.
"I don't like voting because I cannot read and write very well but I will probably vote for Dilma (candidate of Lula's Workers' Party) and I think she will win the election.
"She has worked closely with Lula and he can keep on advising her. If she continues the work he started the new government will be good. I hope she creates more opportunities for my children, grandchildren and great-grandchildren."
Cleo, 46
Cleo works as a cleaner in an industrial kitchen.
"During Lula's presidency the government made efforts to bring factories and the hydro-electric dam to this region.
"It was difficult to find work before but now there are signs for vacancies everywhere and many people I know have two jobs. The only ones unemployed are those who don't want to work.
"I hope the next government will build a new accident and emergency hospital or improve the one we have as well as providing more doctors and medicine.
"The clinics here are good but the conditions there are really bad with patients lying on the floor in the corridors. Most of them are victims of traffic accidents.
"When I came here it was mostly bicycles but now there are cars and motorbikes everywhere. The city doesn't have the infrastructure for all this traffic. It's really dangerous."
Janaina, 25
Janaina is a housewife with three children aged eight, five and two.
"The Bolsa Familia (a scheme whereby families with very low or no income are given money each month on condition that the children attend school and get regular health checks) has been one of the best things Lula did because it offers an incentive for families to ensure their children are healthy and get an education.
"I get 200 reais a month which doesn't pay for everything but it helps to buy the basics like milk, pasta and fruit.
"Crime and violence are increasing. Most of the houses in this neighbourhood have been robbed by adolescents with guns.
"I hope the new government will do more to put criminals in prison.
"My uncle was stabbed on his way home and the murderers live near us but they have not been prosecuted.
"If you kill a protected animal you are arrested but in the Amazon animals are valued more than people. When you kill a person nothing happens."
Jeanne, 23
Jeanne is a student, with a young baby boy.
"For me, education is the basis of everything; it can change your life.
"I completed my school education although most of my family didn't but I think it was more because I wanted to than through government help.
"I was working in a fast food restaurant and paying to study tourism at a local university.
"I stopped to have my baby but when I finish my studies I want to go to another city where they have a flight attendant course.
"I would like to see a greater focus on education in the future. We need more schools and better teachers.
"Some people leave their children to roam the streets and that's when they get involved with crime. You see kids beating their parents.
I want my son to get a good education and not grow up on the street."
Interviews and photographs by Louise Sherwood in Porto Velho