Lula's legacy for Brazil's next president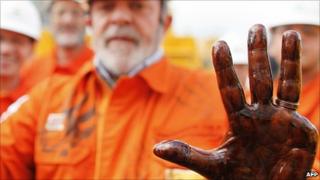 For many years, Luiz Inacio Lula da Silva must have thought he was one of the unluckiest politicians ever.
The Brazilian trade union leader was pipped at the post in the 1989 race for the presidency by a relative political unknown who subsequently resigned as he faced impeachment for corruption.
Lula lost again in 1994 and 1998, against a far more established opponent in Fernando Henrique Cardoso.
When he finally secured his goal of winning the presidency in 2002, there were rumblings, especially from the markets, that he would steer Brazil onto a left-wing path to destruction.
Eight years on, as Lula prepares to bow out on 1 January 2011, he basks in approval ratings that most politicians can only dream of.
"Lula was the first common man to come to power in what is a very unequal society," said Paulo Sotero, director of the Brazil Institute at the Woodrow Wilson Center in the US.
"Brazilians have had successful presidents before but he is the first they feel comfortable with."
Lula's life story echoes that of many Brazilians: a poor boy from the impoverished north-east who made his way to find work in the industrial belt of Sao Paulo.
Cremilda Maria da Silva, 35, who lives in a poor neighbourhood on the outskirts of Cabo de Santo Agostinho in Lula's home state of Pernambuco has no doubts about what his presidency has meant for her.
"It has been the best government, before Lula, we didn't have a government," she said.
Cremilda, who lives with her husband and seven children, is among many poor Brazilians to see their standard of living rise over the past eight years.
She gets some 134 reais ($77, £50) a month under the government's Bolsa Familia or Family Grant, an important boost to her family's income.
"I know that Bolsa Familia existed before but Lula expanded it," Cremilda says, referring to the scheme under which some 12 million families get up to 200 reais a month as long as they keep their children in school.
Evandra, 44, who belongs to a women's group in Olinda, also in Pernamubco, has seen a similar rise in living standards.
"I can afford to buy medicine now. I get the minimum salary (510 reais, $295) but I've been able to buy a computer and a washing machine. The Bolsa Familia has helped a lot."
Gustavo Franco, governor of the Brazilian Central Bank in the previous government of Fernando Henrique Cardoso, believes the Lula presidency has had real significance.
"One crucial change was to demonstrate that the left in Brazil is responsible and modern, not revolutionary, not like Cuba's or Venezuela's left," said Mr Franco.
Mr Franco sees a great degree of continuity in the way Brazil has been governed over the past 16 years.
"The Cardoso people can claim some of the social policies implemented by Lula started in the Cardoso government," he said.
The arguments over who should take credit for the good economic shape Brazil is in have continued through the election campaign. Dilma Rousseff, Lula's choice to succeed him, has been well ahead of her main challenger, Jose Serra, according to the opinion polls. Mr Serra is from the Social Democratic Party (PSDB), Mr Cardoso's party.
What is not in dispute, however, is that Brazil has made great progress in reducing poverty.
According to the Institute of Applied Economic Research (Ipea), some 22.6% of Brazilians were living below the poverty line in 2008, down from more than 34% in 2002.
A study published in September by the Getulio Vargas Foundation, a Rio-based policy group, found that some 29 million Brazilians had entered what is termed the middle class between 2003 and 2009, with average monthly incomes between 1,126 reais and 4,854 reais ($658-$2839; £417-£1797).
Silvia Cordeiro, who runs a women's centre in Cabo de Santo Agostinho in Pernamubuco, acknowledges that life has improved for many people.
"People do live in better conditions, but it has had a political cost. We now need to be more critical regarding our rights, and to challenge the status quo."
The need now is for better quality in education and health, she says.
"We were so unequal a society that even with growth we haven't overcome inequalities completely."
Many Brazilians, while better off than they once were, are clearly still far from wealthy. Problems such as drugs, violence and environmental degradation persist, often in the vast slums of the main cities. State education is lacking and health services are precarious in some areas.
The boom in jobs has also not been uniformly beneficial. Employment and investment in Pernambuco have been growing but there is a severe shortage of skilled workers.
"There are more jobs, but young people here are not prepared for employment, they are not qualified. There are lots of workers coming from outside," says Adriano, who together with several friends runs a cultural group, Oficina do Rock, in Ponte dos Carvalhos, near Recife.
Economic challenges also remain. Brazil be one of the four major emerging economies, known along with Russia, India and China as the BRICs, but its economy has been growing slower than those of China and India.
Paulo Froncini, from the Sao Paulo State Federation of Industries (FIESP) points to a decline in manufacturing industry from 25% to 15% of GDP.
"We have big problems surrounding domestic production. It's very difficult to export from Brazil, and with our high interest and exchange rates it is difficult to compete."
Brazil's future economic path may be influenced greatly in the coming years by the exploration of its vast offshore oil fields, described by Lula as a "gift from God".
The challenge for the next president is not only to develop the country's oil industry but to decide how best to spend its expected oil wealth.
World player
President Lula's time in office has seen Brazil emerge as a cautious world presence into an increasingly confident international player. The president focused much of his energy overseas on building what are termed South-South relations.
While Lula's frequent visits to Africa were well received, his perceived closeness to Iran's President Mahmoud Ahmadinejad and ultimately failed attempts to broker an agreement over Tehran's nuclear ambitions provoked criticism at home and abroad.
Paulo Sotero sees Brazil's foreign policy becoming more predictable and careful, whoever wins.
"Brazil will try to be of service, but if you don't have a star celebrity like Lula, then it is more difficult," he says.
If Lula could constitutionally run again for office, there is little doubt that he would win. Even so, the 2010 election has revolved around him, with all candidates stressing to a greater or lesser extent continuity rather than change.
President Lula has thrown his weight behind Dilma Rousseff to such a degree that opponents have accused him of abusing his office.
But unless the opinion polls are radically wrong, Brazil's president of the people is likely to be succeeded by the country's first female leader.