Mexican police arrest suspected drug lord Soto Reyes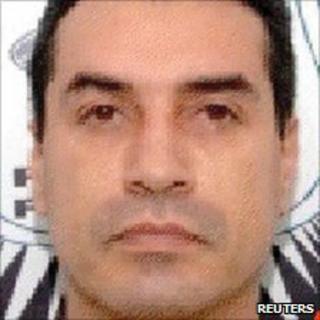 Mexican police have arrested Margarito Soto Reyes, believed to be one of the leading members of the powerful Sinaloa drug cartel, the government says.
Soto Reyes, also known as "The Tiger", was detained with eight accomplices near the western city of Guadalajara, the Ministry of Public Security said.
Soto Reyes allegedly smuggled half a tonne of drugs into the US every month.
Police believe he replaced Ignacio Coronel, a top member of the cartel killed by soldiers in July.
Investigations by Mexican and US security forces showed that Soto Reyes had taken over control of an important trafficking route for synthetic drugs that had formerly been operated by Coronel, the ministry said in a statement.
The Sinaloa cartel is one of the most powerful and violent drug trafficking organisations in Mexico.