Haiti storm 'kills five' and wrecks quake refugee camps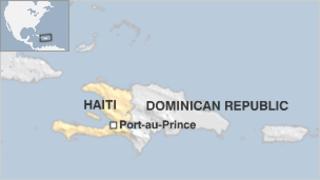 Five Haitian refugees have been killed as a storm overtook the impoverished country still recovering from the January earthquake, media report.
The rainstorm passed over the capital of Port-au-Prince on Friday, tearing down houses and power lines.
The dead had been in homeless camps inundated by rain and devastated by wind, officials told AFP news agency.
The January earthquake levelled the city, killing an estimated 250,000 people and leaving millions homeless.
The storm, which passed quickly over the capital, caused panic and terror among the estimated 1.3 million Port-au-Prince residents still homeless eight months after the earthquake.
Five people were killed in refugee camps, the AFP news agency reported, citing Haitian Civil Protection spokesman Edgard Celestin.
The wind blew away tarps, tent poles and tin roofs, opening family shacks to the elements, the Associated Press reported.
Meanwhile, Tropical Storm Matthew has made landfall in Honduras and Nicaragua with winds of 75km/h (45mph).
Matthew is expected to bring up to 10in (25cm) of rain, with a risk of flooding and landslides.
Nicaraguan President Daniel Ortega has ordered the evacuation of hundreds of people living in the storm's path.
Forecasters say Matthew will strike southern Belize by Saturday evening before crossing into Guatemala by Sunday.
Its predicted path then heads north into Mexico's Yucatan peninsula.
"Matthew is heading toward Central America in a hurry," said the Miami-based National Hurricane Center.
It warned that the storm system could bring "life-threatening flash floods and mudslides".
Honduras has declared a state of preventive alert throughout the country.