Court freezes Chile mine assets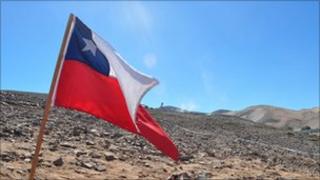 A court in Chile has frozen the assets of the company which owns the mine where 33 men have been trapped for 50 days.
The move was requested by the Chilean government, which wants the company to repay the cost of the miners' rescue.
The San Esteban mining company was in financial trouble even before the main access tunnel to its copper and gold mine collapsed.
And the rescue operation will add millions of dollars to its debts.
The company reportedly owes creditors more than $10m (£6.4m).
An appraiser has been asked to report back to creditors in a month's time on whether the company should be declared bankrupt.
Rescue pods
The rescue operation at the mine is continuing, although one of the drills, the Schramm T-130, has developed a "technical malfunction", forcing it to stop temporarily at a depth of 143m (470ft).
Officials said part of the hammer had broken off, but that they expected the drill to resume work shortly.
Rene Aguilar, one of the engineers in charge of the rescue efforts, said plans for the final part of the operation were progressing well.
He said two specially designed rescue capsules would be used to lift the miners to safety, and estimated that it would take 20-30 minutes to pull each of the men up through the 700m (2,300ft) of rock which separates them from the surface.
But adding the time it would take to lower the capsule, and to get the miners in and out of the narrow cage-like structure, rescuers were looking at a time of 90 minutes for each of the men.
He told reporters at the San Jose mine he thought the rescue would be completed in early November.